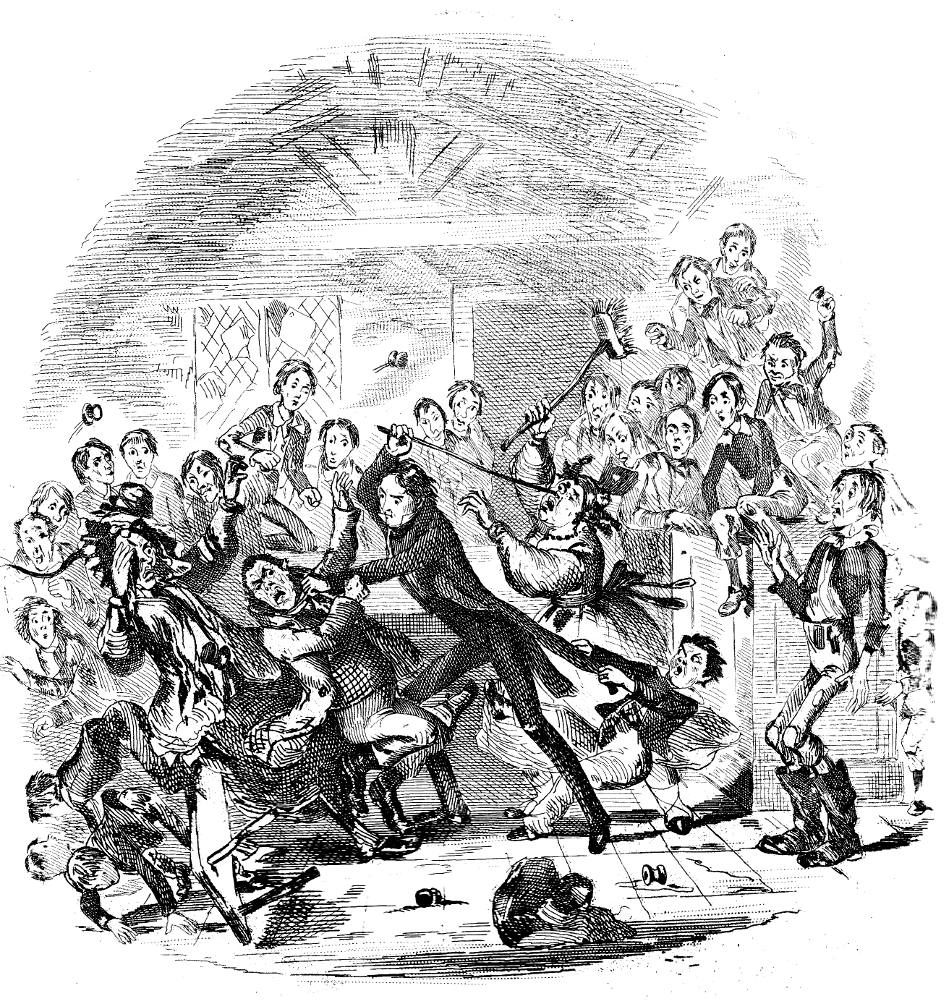 Nicholas Astonishes Mr. Squeers and Family from the Yorkshire school chapters of Dickens's Life and Adventures of Nicholas Nickleby (July 1838). 11 cm high by 11.3 cm wide (4 ⅜ by 4 ⅝ inches) for the novel's thirteenth chapter. Steel engraving by Phiz (Hablot K. Browne) for Part IV, facing 235. Source: Steig, plate 29. [Click on the images to enlarge them.]
Passage illustrated: Nicholas Intervenes to Save Smike
"Who cried stop?" said Squeers, turning savagely round.
"I," said Nicholas, stepping forward. "This must not go on."
"Must not go on!" cried Squeers, almost in a shriek.
"No!" thundered Nicholas.
Aghast and stupefied by the boldness of the interference, Squeers released his hold of Smike, and, falling back a pace or two, gazed upon Nicholas with looks that were positively frightful.
"I say must not," repeated Nicholas, nothing daunted; "shall not. I will prevent it."
Squeers continued to gaze upon him, with his eyes starting out of his head; but astonishment had actually, for the moment, bereft him of speech.
"You have disregarded all my quiet interference in the miserable lad's behalf," said Nicholas; "you have returned no answer to the letter in which I begged forgiveness for him, and offered to be responsible that he would remain quietly here. Don't blame me for this public interference. You have brought it upon yourself; not I."
"Sit down, beggar!" screamed Squeers, almost beside himself with rage, and seizing Smike as he spoke.
"Wretch," rejoined Nicholas, fiercely, "touch him at your peril! I will not stand by, and see it done. My blood is up, and I have the strength of ten such men as you. Look to yourself, for by Heaven I will not spare you, if you drive me on!"
"Stand back," cried Squeers, brandishing his weapon.
"I have a long series of insults to avenge," said Nicholas, flushed with passion; "and my indignation is aggravated by the dastardly cruelties practised on helpless infancy in this foul den. Have a care; for if you do raise the devil within me, the consequences shall fall heavily upon your own head!"
He had scarcely spoken, when Squeers, in a violent outbreak of wrath, and with a cry like the howl of a wild beast, spat upon him, and struck him a blow across the face with his instrument of torture, which raised up a bar of livid flesh as it was inflicted. Smarting with the agony of the blow, and concentrating into that one moment all his feelings of rage, scorn, and indignation, Nicholas sprang upon him, wrested the weapon from his hand, and pinning him by the throat, beat the ruffian till he roared for mercy. [Chapter XIII, "Nicholas varies the Monotony of Dothebys Hall by a most vigorous and remarkable proceeding, which leads to Consequences of some Importance," 235]
Other Comparable Mob Scenes by Phiz
Commentary: Phiz's Delight in Mob Scenes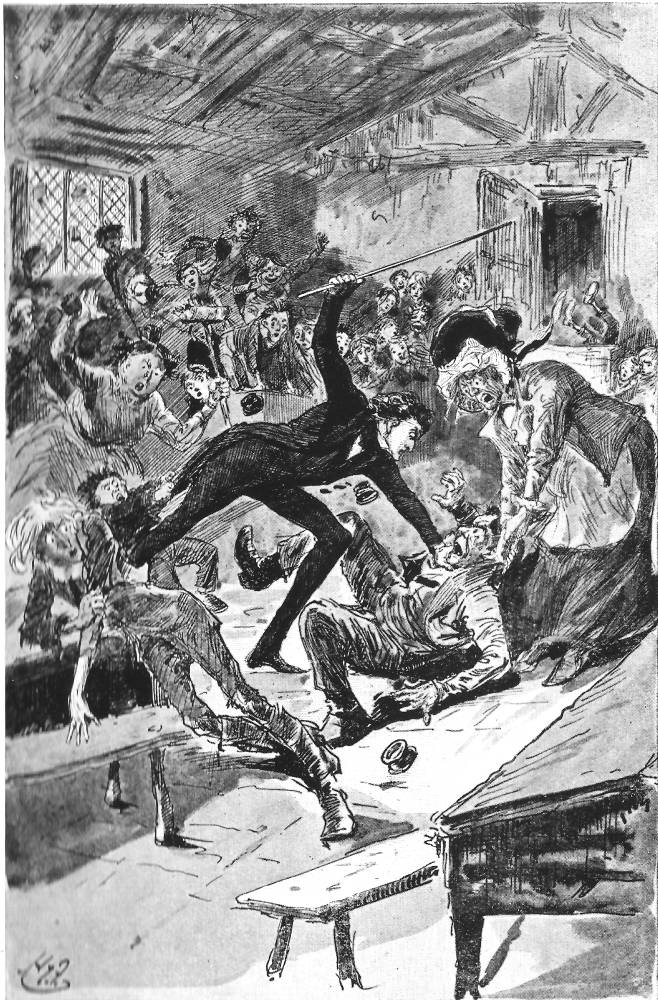 The 1910 Harry Furniss frontispiece, clearly based on the 1838 engraving, Nicholas's Vengeance on Squeers (Charles Dickens Library Edition).
Dickens and his illustrators consistently sought to appeal to their readers' sense of poetic justice or nemesis, and such is very much the case with the compelling schoolroom scene in which the young "usher" or assistant-teacher, Nicholas Nickleby, changes allegiances and sides with the students against heir sadistic master, Wackford Squeers. At this climactic moment, the protagonist is emotionally carried away by his sense of moral indignation as he punishes Squeers for abusing the helpless Smike, a mentally challenged boarding student who, Dickens will later reveal, is Ralph Nickleby's unacknowledged son, and therefore Nicholas's cousin. As he would later do in David Copperfield (1849), Phiz here seems to have relished depicting a rowdy classroom scene in which the students uproariously rebel against an arbitrary and unjust system of tutelage and an authority figure. The situation is not not what in seems in the July 1849 scene since the teacher is the victim, and the rebellious student a bully. In the July 1838 scene, "we find Nicholas down in the boys' midst; he has become their ally against the Squeerses. The compositionis of a kind favoured by the early Phiz for scenes of violence, comic or real — a whirl of figures around one or two central ones" (Steig, 44). The present illustration has the additional benefit of Phiz's personal experience in investigative journalism as he and Dickens had actually visited Yorkshire's Bowes Academy in January 1838, making it the model for Dotheboys Hall, and finding in its headmaster, William Shaw, the prototype for Squeers.
Phiz offers a melodramatic, albeit somewhat theatrical scene whose design demonstrates his strong suit: baroque action and multivariant studies of figures caught in uproarious action. The schoolroom scene, anticipating the Gordon Riots of Barnaby Rudge and such revolutionary mob scenes as the October 1859 The Sea Rises and the September 1859 Spy's Funeral in A Tale of Two Cities, overflows with dynamic characters in a physical setting drawn with scrupulous attention to details given in the letterpress. Delighting in the challenge such a scene presents for the graphic artist, Phiz has vigorously captured the precise moment when in the confrontation between the virtuous, young usher and the reprensible, decrepit school-master. Here, the protagonist's chastizing a villainous oaf serves as the climax of the first movement of the story; six years later, in the closing number of Martin Chuzzlewit, a similar comeuppance will mark the climax of the entire novel as the young, picaresque protagonist denounces and punishes the devious Pecksniff in Warm Reception of Mr. Pecksniff by His Venerable Friend (July 1844).
Commentary from Michael Steig,
Dickens and Phiz

(1978)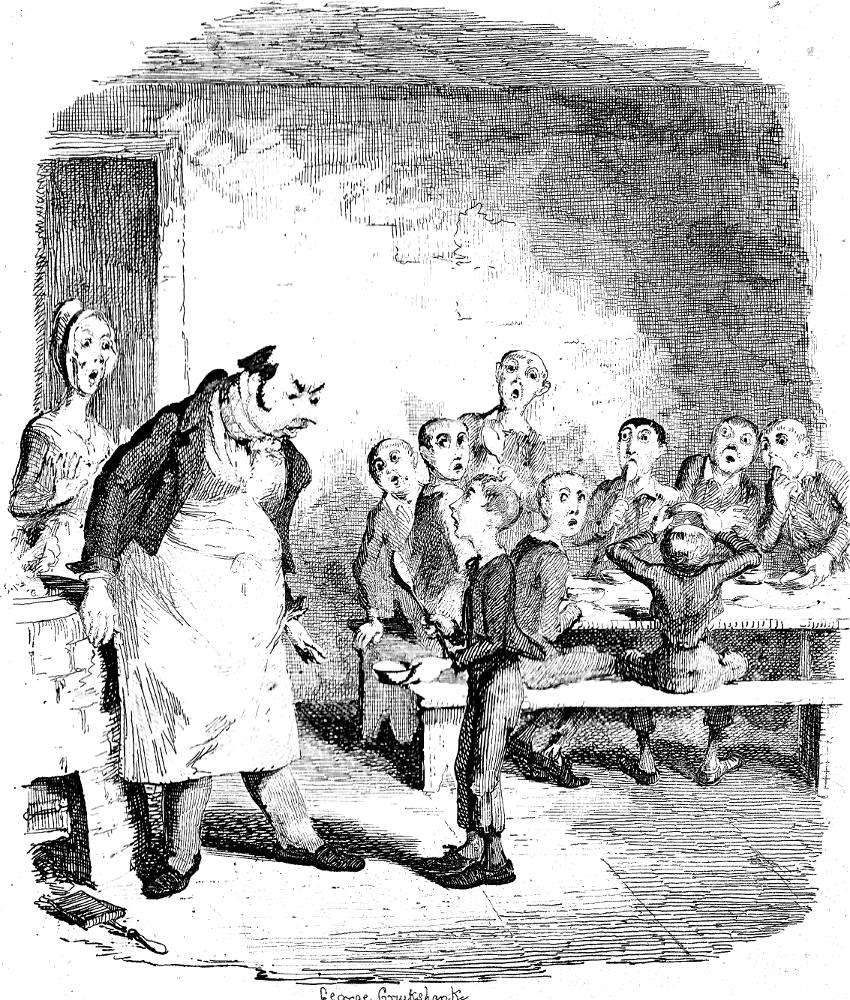 The Feb. 1837 steel-engraving in Bentley's Miscellany that Steig compares to Phiz's 1838 engraving: Oliver Asks fior More (Chapter 2 of Oliver Twist).
The two Dotheboys Hall plates form a before-and-after sequence: in the first, Phiz challenges Cruikshank as an artist of the grotesquely pitiable, attempting something in the vein of [the February 1837 inaugural illustration] Oliver asks for more. It has been remarked that Dickens' text is superior to Phiz's etching, about which it seems difficult to say, as John Forster did about the text, that "Dotheboys was, like a piece by Hogarth, both ludicrous and terrible'" (Hunt, p. 134). Such a comparison seems too dismissive, but to contrast Browne with Cruikshank does reveal something about the former's virtues and limitations. For Browne does not achieve, with his ragged, starving boys, anything like the preternatural effect of Cruikshank's workhouse lads who have been reduced to a subhuman level, with their stupefied expressions and sunken eyes, and even the bony structure of their faces and the shapes of their cropped heads. By contrast, Browne's are still recognizably boys, but boys with melodramatic faces either virtuous and horrified or wizened and grotesque. [44]
Relevant illustrations for
Nicholas Nickleby

(1875 & 1910)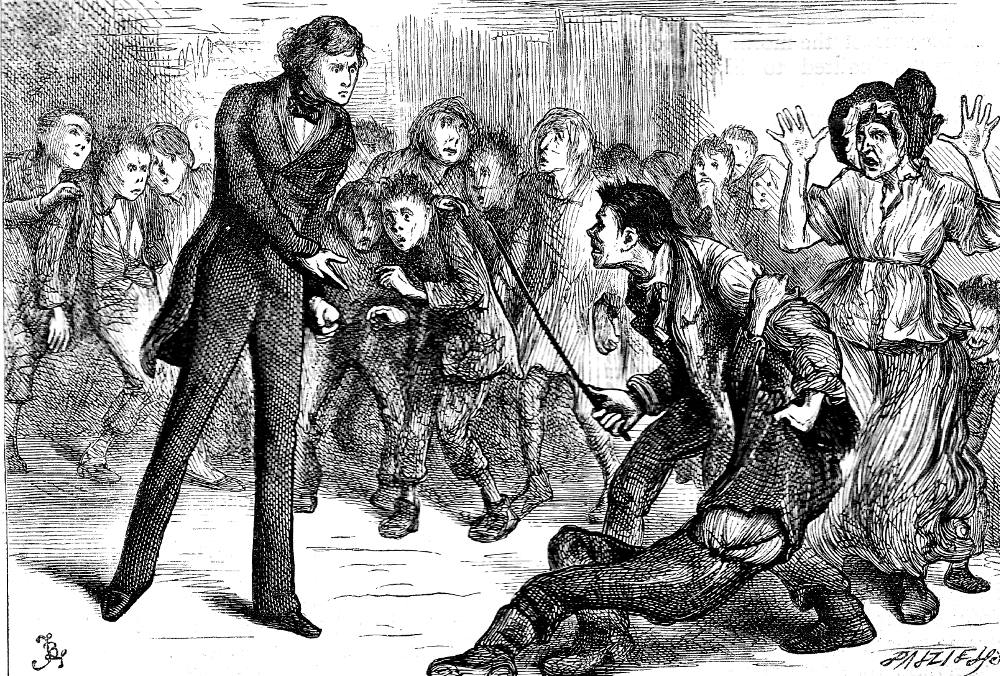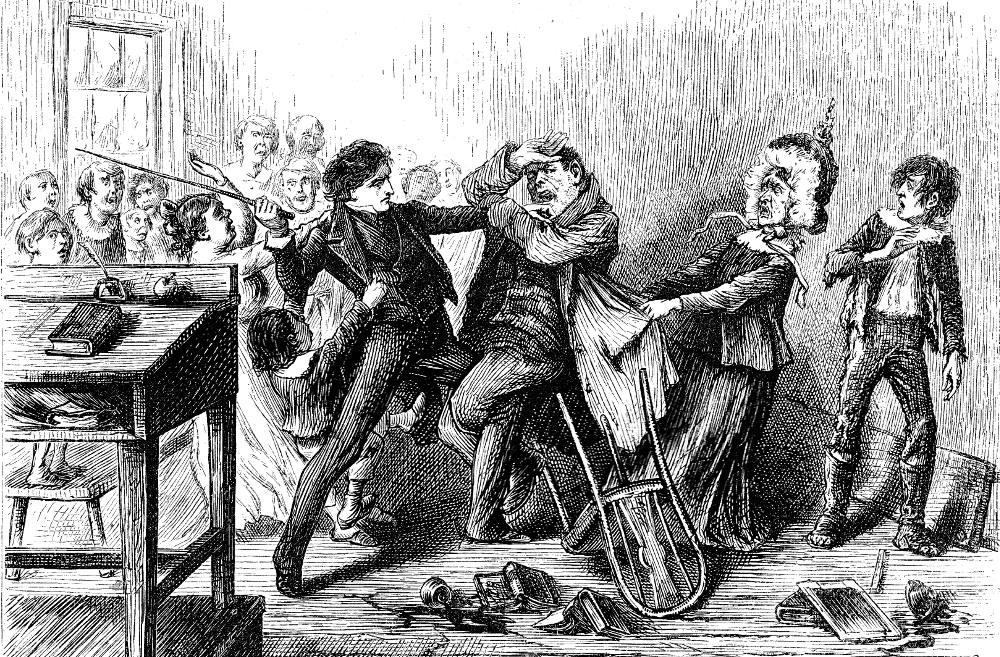 Left: The Household Edition scene by Fred Barnard that deals with the same melodramatic incident in the composite woodblock engraving "Wretch," rejoined Nicholas, fiercely, "touch him at your peril! I will not stand by, and see it done. My blood is up, and I have the strength of ten such men as you." (1875). Right: The 1875 American Household Edition version of the same by C. S. Reinhart is startlingly dramatic and realistic, although clearly based on the 1838 engraving, Nicholas varies the monotony of Dotheboys Hall by a most vigorous and remarkable proceeding. [Click on the images to enlarge them.]
Related material, including front matter and sketches, by other illustrators
Scanned images and text by Philip V. Allingham. [You may use these images without prior permission for any scholarly or educational purpose as long as you (1) credit the person who scanned the image and (2) link your document to this URL in a web document or cite the Victorian Web in a print one.]
Bibliography
Dickens, Charles. The Life and Adventures of Nicholas Nickleby. Illustrated by Phiz (Hablot Knight Browne). London: Chapman and Hall, 1839.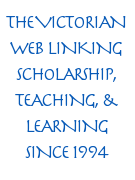 _______. The Life and Adventures of Nicholas Nickleby. Ed. Andrew Lang. Illustrated by 'Phiz' (Hablot Knight Browne). The Gadshill Edition. London: Chapman and Hall, 1897. 2 vols.
Steig, Michael. Chapter 2. "The Beginnings of 'Phiz': Pickwick, Nickleby, and the Emergence from Caricature." Dickens and Phiz. Bloomington & London: Indiana U. P., 1978. 24-50.
Thomas, Deborah A. "Chapter 2: Imaginative Overindulgence." Dickens and the Short Story. Philadelphia: University of Pennsylvania Press, 1982. 7-31.
Vann, J. Don. "The Life and Adventures of Nicholas Nickleby, twenty parts in nineteen monthly installments, April 1838-October 1839." New York: Modern Language Association, 1985. 63.
---
Created 9 April 2002 Last modified 13 April 2021