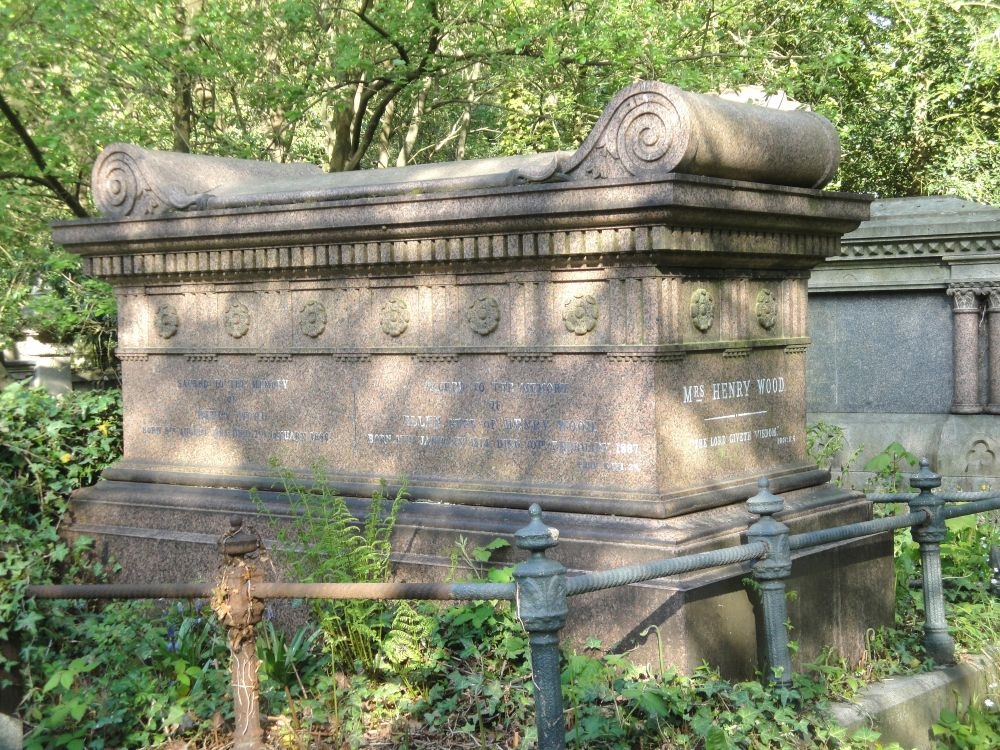 Mrs Wood's monument in Highgate Cemetery; her husband was disinterred so that he could be buried with her (see Flowers). [Photograph by Robert Freidus.]
After her husband died in 1866, Ellen Wood, who was by then living in Kensington, moved to St. John's Wood Park, South Hampstead. She died of heart failure on 10 February 1887, aged 73, and was buried in Highgate cemetery on 16 February. By her express wish, only those closest to her were in attendance (see "The Late Mrs Henry Wood"). The tomb-chest, of red Aberdeen granite, was particularly fine, copied from that of the Roman hero Scipio Africanus (see Wood 320). Besides the dutiful Charles, who had been helping her edit the Argosy for several years now, and continued to do so (see Sutherland 27), she was survived by two other sons and a daughter. Her eldest son Henry returned from the south of France, where Wood had spent the happiest days of her marriage, to be present.
Wood's work had been enormously popular, and was still popular when she died. On the centenary of her birth a memorial to her was erected in Worcester Cathedral, describing her as an "Author of many works of Fiction / Which have made this City and Cathedral / known throughout the English-speaking World." Her writings had, however, never met with the approval of the literati. While Harrison Ainsworth had snapped up East Lynne for a serial even before it was finished, George Meredith, as publisher's reader for Chapman and Hall, had rejected it for book publication even after being asked to give it a second reading (see Jones 220). In the twentieth century, Wood's reputation lost ground. "Overpraised at the time of their first appearance, Mrs. Henry Wood's novels have since been unduly depreciated," ran her entry in the Dictionary of National Biography for 1900, continuing with the following attempt at a fair assessment:
As a skilful weaver of plots she was not inferior to Wilkie Collins, and as a faithful delineator of the habits and ideas of the lower middle class in England she surpassed Mrs. Trollope. A careless writer and an incorrigible contemner both of grammatical and legal accuracy (in regard to the legal points round which many of her stories revolve), Mrs. Henry Wood is nevertheless in her way an artist, and she depicts characters as unlike as those of Mr. Chattaway [a lawyer in Mrs Halliburton's Troubles], Roland Yorke, or, best of all, Johnny Ludlow, with a fidelity to life that goes far to absolve her from the too sweeping charge of commonplaceness. Her extraordinary popularity is due largely to the fact that with a most faithful and realistic rendering of middle-class life she combines a complete freedom both from pretension to social superiority and from the intellectual disdain that characterises the middle-class portraiture in Middlemarch. [Seecombe 356]
Towards the end of the last century, her work was often mined for this "faithful and realistic rendering of middle-class life." But there was also a new interest in East Lynne as inspiring, along with two other novels of this time, Wilkie Collins's Woman in White (1860) and Mary Braddon's Lady Audley's Secret (1862), a new wave of of sensational fiction, as well as the critical discourse that it soon provoked (see, for example, Edwards 3). There is also, rather ironically, a return to the original view that these works were not only "brash" and "vulgar," but "subversive" (Hughes 6; emphasis added). Thus Jonathan Loesberg talks about Wood's "subversive conventionality" (136, n.9), and indeed it is clear that for all her high moral tone, Wood evokes sympathy for her best-known heroine, the erring Lady Isabel Vane in East Lynne. She is, of course, severely punished for her adultery, but, when she returns disguised as governess to her own children, her new identity involves such a painful repression of maternal feelings that it inevitably calls for a new response, even from the most self-righteous reader. Lyn Pykett puts it well when she says that this "is not simply the story of a fallen woman or erring wife, it is also, most emphatically, the story of a fallen and hence suffering mother" (129).
Wood was not a writer of the depth and seriousness of Mrs Humphry Ward. She seems to have been untouched by the graver issues of the time, remaining perfectly orthodox in her religious faith and values in general. Nevertheless, a new, more penetrating readership is beginning to uncover or perhaps rediscover ambivalences in her work which open up new avenues of interpretation and discussion, and a new appreciation of her powers.
Related Material
Sources
Edwards, P.D. Some Mid-Victorian Thrillers: The Sensation Novel, Its Friends and Its Foes. St. Lucia: University of Queensland Press, 1971. Print.
Flowers, Michael. "Ellen Wood — A Biographical Sketch." The Ellen Wood Website (a very useful resource with a detailed chronology). Web. 18 November 2013.
Hughes, Winifred. The Maniac in the Cellar: Sensation Novels of the 1860s. Princeton, NJ: Princeton University Press, 1980. Print.
Jay, Elizabeth. Introduction. East Lynne. Oxford: Oxford University Press (Oxford World's Classics), 2005. vii-xxxix. Print.
Jones, Mervyn. The Amazing Victorian: A Life of George Meredith. London: Constable, 1999. Print.
"The Late Mrs Henry Wood — The funeral of. The Times. 17 February 1887: 10. Times Digital Archive. Web. 18 November 2013.
Loesberg, Joseph. "The Ideology of Narrative Form in Sensation Fiction." Representations, No. 13 (Winter, 1986): 115-38. Accessed via Jstor. Web. 18 November 2013.
Pykett, Lyn. The "Improper" Feminine: The Women's Sensation Novel and the New Woman Writing. London & New York: Routledge, 1992. Print.
Seecombe, Thomas. "Wood, Ellen (1814-1887)." Dictionary of National Biography: Williamson-Worden. London: Smith, Elder, 1900. 355-57. Internet Archive. Web. 18 November 2013.
Sergeant, Adeline. "Mrs Henry Wood." Women Novelists of Queen Victoria's Reign: A Book of Appreciations. London: Hurst & Blackett, 1897. 174-192. Internet Archive. Web. 18 November 2013.
Sutherland, John. The Longman Companion to Victorian Fiction. London: Longman, 1988. Print.
Wood, Charles W. Memorials of Mrs Henry Wood. London: Richard Bentley, 1894. Internet Archive. Web. 18 November 2013.
---
Last modified 18 November 2013