The Visit to the Brickmaker (108) — Chapter 8, 3 ½ by 5 ⅝ inches (9 cm high x 14.4 cm wide), vignetted, sixth illustration in Charles Dickens's Bleak House, Charles Dickens Library Edition (1910), facing XI, 113. Original caption: "Then make it easy for her!" growled the man upon the floor. "I wants it done, and over. I wants a end of these liberties took with my place." . . . The children sulked and stared; the family took no notice of us whatever, except when the young man made the dog bark. [Click on the images to enlarge them.]
Passage Illustrated
"You can't tire me, good people," said Mrs. Pardiggle to these latter. "I enjoy hard work, and the harder you make mine, the better I like it."
"Then make it easy for her!" growled the man upon the floor. "I wants it done, and over. I wants a end of these liberties took with my place. I wants an end of being drawed like a badger. Now you're a-going to poll-pry and question according to custom — I know what you're a-going to be up to. Well! You haven't got no occasion to be up to it. I'll save you the trouble. Is my daughter a-washin? Yes, she is a-washin. Look at the water. Smell it! That's wot we drinks. How do you like it, and what do you think of gin instead! An't my place dirty? Yes, it is dirty — it's nat'rally dirty, and it's nat'rally onwholesome; and we've had five dirty and onwholesome children, as is all dead infants, and so much the better for them, and for us besides. Have I read the little book wot you left? No, I an't read the little book wot you left. There an't nobody here as knows how to read it; and if there wos, it wouldn't be suitable to me. It's a book fit for a babby, and I'm not a babby. If you was to leave me a doll, I shouldn't nuss it. How have I been conducting of myself? Why, I've been drunk for three days; and I'da been drunk four if I'da had the money. Don't I never mean for to go to church? No, I don't never mean for to go to church. I shouldn't be expected there, if I did; the beadle's too gen-teel for me. And how did my wife get that black eye? Why, I give it her; and if she says I didn't, she's a lie!"
He had pulled his pipe out of his mouth to say all this, and he now turned over on his other side and smoked again. Mrs. Pardiggle, who had been regarding him through her spectacles with a forcible composure, calculated, I could not help thinking, to increase his antagonism, pulled out a good book as if it were a constable's staff and took the whole family into custody. I mean into religious custody, of course; but she really did it as if she were an inexorable moral policeman carrying them all off to a station-house.
Ada and I were very uncomfortable. We both felt intrusive and out of place, and we both thought that Mrs. Pardiggle would have got on infinitely better if she had not had such a mechanical way of taking possession of people. The children sulked and stared; the family took no notice of us whatever, except when the young man made the dog bark, which he usually did when Mrs. Pardiggle was most emphatic.  [Chapter VIII, "Covering a Multitude of Sins," 108]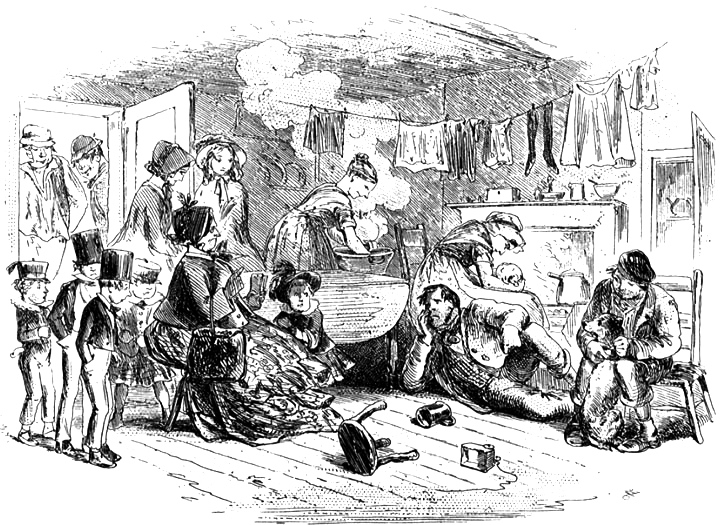 Phiz's original illustration for the third monthly part, The Visit to the Brickmaker's (May 1852).
Related Material, including Other Illustrated Editions of
Bleak House
Scanned image, colour correction, sizing, caption, and commentary by Philip V. Allingham. [You may use this image without prior permission for any scholarly or educational purpose, as long as you (1) credit the person who scanned the image, and (2) link your document to this URL in a web document or cite the Victorian Web in a print one.]
Bibliography
Bentley, Nicolas, Michael Slater, and Nina Burgis. The Dickens Index. New York and Oxford: Oxford U. P., 1990.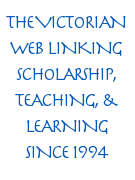 "Bleak House — Sixty-one Illustrations by Fred Barnard." Scenes and Characters from the Works of Charles Dickens, Being Eight Hundred and Sixty-six Drawings by Fred Barnard, Gordon Thomson, Hablot Knight Browne (Phiz), J. McL. Ralston, J. Mahoney, H. French, Charles Green, E. G. Dalziel, A. B. Frost, F. A. Fraser, and Sir Luke Fildes. London: Chapman and Hall, 1907.
The Characters of Charles Dickens pourtrayed in a series of original watercolours by "Kyd." London, Paris, and New York: Raphael Tuck & Sons, n. d.
Darley, Felix Octavius Carr. Character Sketches from Dickens. Philadelphia: Porter and Coates, 1888.
Davis, Paul. Charles Dickens A to Z: The Essential Reference to His Life and Work. New York: Facts On File, 1998.
Dickens, Charles. Bleak House. Illustrated by F. O. C. Darley and John Gilbert. The Works of Charles Dickens. The Household Edition. New York: Sheldon and Company, 1863. Vols. 1-4.
_______. Bleak House. Illustrated by Sol Eytinge, Jr, and engraved by A. V. S. Anthony. 14 vols. Boston: Ticknor & Fields, 1867. VI.
_______. Bleak House, with 61 illustrations by Fred Barnard. Household Edition. 21 vols. London: Chapman and Hall, 1873. IV.
_______. Bleak House. Illustrated by Harry Furniss [28 original lithographs]. The Charles Dickens Library Edition. 18 vols.​ London: Educational Book, 1910. XI.
Hammerton, J. A. "Chapter 18: Bleak House." The Dickens Picture-Book. The Charles Dickens Library Edition. London: Educational Book, 1910. XVII. 366-97.
Kyd [Clayton J. Clarke]. Characters from Dickens. Nottingham: John Player & Sons, 1910.
Steig, Michael. Chapter 6. "Bleak House and Little Dorrit: Iconography of Darkness." Dickens and Phiz. Bloomington & London: Indiana U. P., 1978. 131-172.
Vann, J. Don. "Bleak House, twenty parts in nineteen monthly instalments, October 1846—April 1848." Victorian Novels in Serial. New York: The Modern Language Association, 1985. 69.
---
Created 17 February 2021