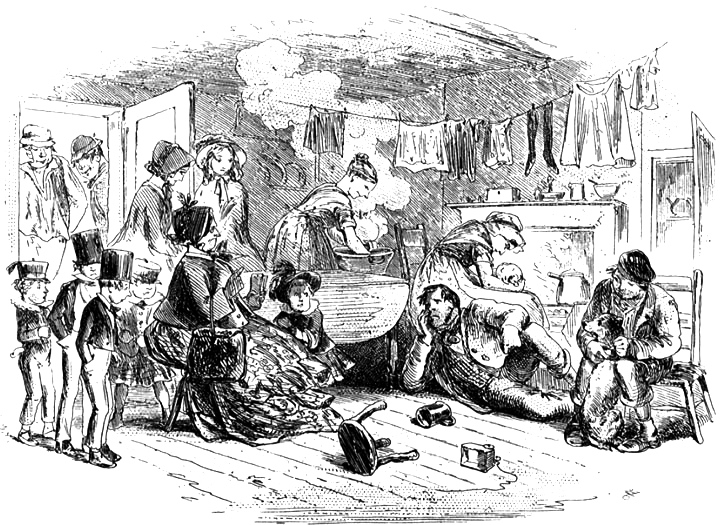 The Visit to the Brickmaker's by "Phiz" (Hablot Knight Browne) for Bleak House, Chapter VIII, "Covering a Multitude of Sins," facing p. 75. 3 3/4 x 5 1/4 inches. For text illustrated, see below. [Click on the images to enlarge them.]
Details
Commentary: Middle-class Philanthropy and the Working Poor
[Dickens, here very much a disciple of Thomas Carlyle, particularly the Carlyle of "Signs of the Times" (1829) (text), draws a fierce satiric portrait of Mrs. Pardiggle's mechanical charity, which he opposes both to Mrs. Jellby's approach that involves abandoning her family and to the personal, individual charitable actions of both Esther and Mr. Jarndyce. The death of the baby and the reactions of the brickmaker's family, Esther, and Ada, which modern readers might take as excessively sentimental, had a definite political purpose that would have produced different results upon Victorian readers. In essence, Dickens here counters the belief frequently voiced by contemporary middle- and upper-class commentators that the poor "are different from us," they do not find the death of children all that upsetting, and they therefore must be almost a separate species. As Engles pointed out in his Condition of the Working Classes, the prosperous classes lived segregated from the poor, which prevented them from encountering their sufferings. Dickens here forces his reader to see these sufferings — an approach Mrs. Gaskell used two years later in North and South when her protagonist several times visits the poor in the manner of Esther and not Mrs. Pardiggle.]
Passage Illustrated: Another Philanthropist, but of an Evangelical Character
Mrs. Pardiggle, leading the way with a great show of moral determination and talking with much volubility about the untidy habits of the people (though I doubted if the best of us could have been tidy in such a place), conducted us into a cottage at the farthest corner, the ground-floor room of which we nearly filled. Besides ourselves, there were in this damp, offensive room a woman with a black eye, nursing a poor little gasping baby by the fire; a man, all stained with clay and mud and looking very dissipated, lying at full length on the ground, smoking a pipe; a powerful young man fastening a collar on a dog; and a bold girl doing some kind of washing in very dirty water. They all looked up at us as we came in, and the woman seemed to turn her face towards the fire as if to hide her bruised eye; nobody gave us any welcome.
"Well, my friends," said Mrs. Pardiggle, but her voice had not a friendly sound, I thought; it was much too business-like and systematic. "How do you do, all of you? I am here again. I told you, you couldn't tire me, you know. I am fond of hard work, and am true to my word." . . .
"I wants it done, and over. I wants a end of these liberties took with my place. I wants an end of being drawed like a badger. Now you're a-going to poll-pry and question according to custom — I know what you're a-going to be up to. Well! You haven't got no occasion to be up to it. I'll save you the trouble. Is my daughter a-washin? Yes, she IS a-washin. Look at the water. Smell it! That's wot we drinks. How do you like it, and what do you think of gin instead! An't my place dirty? Yes, it is dirty — it's nat'rally dirty, and it's nat'rally onwholesome; and we've had five dirty and onwholesome children, as is all dead infants, and so much the better for them, and for us besides. Have I read the little book wot you left? No, I an't read the little book wot you left. There an't nobody here as knows how to read it; and if there wos, it wouldn't be suitable to me. It's a book fit for a babby, and I'm not a babby. If you was to leave me a doll, I shouldn't nuss it. How have I been conducting of myself? Why, I've been drunk for three days; and I'da been drunk four if I'da had the money. Don't I never mean for to go to church? No, I don't never mean for to go to church. I shouldn't be expected there, if I did; the beadle's too gen-teel for me. And how did my wife get that black eye? Why, I give it her; and if she says I didn't, she's a lie!"
He had pulled his pipe out of his mouth to say all this, and he now turned over on his other side and smoked again. Mrs. Pardiggle, who had been regarding him through her spectacles with a forcible composure, calculated, I could not help thinking, to increase his antagonism, pulled out a good book as if it were a constable's staff and took the whole family into custody. I mean into religious custody, of course; but she really did it as if she were an inexorable moral policeman carrying them all off to a stationhouse.
Ada and I were very uncomfortable. We both felt intrusive and out of place, and we both thought that Mrs. Pardiggle would have got on infinitely better if she had not had such a mechanical way of taking possession of people. The children sulked and stared; the family took no notice of us whatever, except when the young man made the dog bark, which he usually did when Mrs. Pardiggle was most emphatic. We both felt painfully sensible that between us and these people there was an iron barrier which could not be removed by our new friend. By whom or how it could be removed, we did not know, but we knew that. Even what she read and said seemed to us to be ill-chosen for such auditors, if it had been imparted ever so modestly and with ever so much tact. As to the little book to which the man on the floor had referred, we acquired a knowledge of it afterwards, and Mr. Jarndyce said he doubted if Robinson Crusoe could have read it, though he had had no other on his desolate island. . . .
She supposed that we were following her, but as soon as the space was left clear, we approached the woman sitting by the fire to ask if the baby were ill.
She only looked at it as it lay on her lap. We had observed before that when she looked at it she covered her discoloured eye with her hand, as though she wished to separate any association with noise and violence and ill treatment from the poor little child.
Ada, whose gentle heart was moved by its appearance, bent down to touch its little face. As she did so, I saw what happened and drew her back. The child died.
"Oh, Esther!" cried Ada, sinking on her knees beside it. "Look here! Oh, Esther, my love, the little thing! The suffering, quiet, pretty little thing! I am so sorry for it. I am so sorry for the mother. I never saw a sight so pitiful as this before! Oh, baby, baby!". . .
Presently I took the light burden from her lap, did what I could to make the baby's rest the prettier and gentler, laid it on a shelf, and covered it with my own handkerchief. We tried to comfort the mother, and we whispered to her what Our Saviour said of children. She answered nothing, but sat weeping — weeping very much.
When I turned, I found that the young man had taken out the dog and was standing at the door looking in upon us with dry eyes, but quiet. The girl was quiet too and sat in a corner looking on the ground. The man had risen. He still smoked his pipe with an air of defiance, but he was silent.
An ugly woman, very poorly clothed, hurried in while I was glancing at them, and coming straight up to the mother, said, "Jenny! Jenny!" The mother rose on being so addressed and fell upon the woman's neck.
She also had upon her face and arms the marks of ill usage. She had no kind of grace about her, but the grace of sympathy; but when she condoled with the woman, and her own tears fell, she wanted no beauty. I say condoled, but her only words were "Jenny! Jenny!" All the rest was in the tone in which she said them.
I thought it very touching to see these two women, coarse and shabby and beaten, so united; to see what they could be to one another; to see how they felt for one another, how the heart of each to each was softened by the hard trials of their lives. I think the best side of such people is almost hidden from us. What the poor are to the poor is little known, excepting to themselves and God. [Chapter VIII, "Covering a Multitude of Sins," 76-77; Project Gutenberg etext (see bibliography below)]
Harry Furniss's Version from the Charles Dickens Library Edition (1910)
Harry Furniss's version transforms the indolent husband into a slothful giant in The Visit to the Brickmaker.
Related Material, including Other Illustrated Editions
Image scan and text by George P. Landow; additional text by Philip V. Allingham. [You may use this image without prior permission for any scholarly or educational purpose as long as you (1) credit the person who scanned the image, and (2) link your document to this URL in a web document or cite the Victorian Web in a print one.]
Bibliography
Dickens, Charles. Bleak House. Illustrated by Hablot Knight Browne ("Phiz"). London: Bradbury & Evans. Bouverie Street, 1853.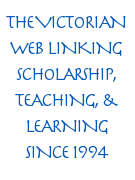 Dickens, Charles. Bleak House. Project Gutenberg etext prepared by Donald Lainson, Toronto, Canada (charlie@idirect.com), with revision and corrections by Thomas Berger and Joseph E. Loewenstein, M.D. Seen 9 November 2007.
Steig, Michael. Chapter 6. "Bleak House and Little Dorrit: Iconography of Darkness." Dickens and Phiz. Bloomington & London: Indiana U. P., 1978. 131-172.
Vann, J. Don. "Bleak House, twenty parts in nineteen monthly instalments, October 1846—April 1848." Victorian Novels in Serial. New York: The Modern Language Association, 1985. 69-70./
---
Last modified 12 November 2007 Last modified 3 March 2021