On [16] January, 1849, Catherine was delivered of another son; Dickens christened Henry Fielding Dickens in "a kind of homage to the style of work he was no so bent on beginning," according to Forster — which, if so, must be the first occasion when an infant has been baptized in honour of an unwritten book. [Ackroyd 556]
Sir Henry Fielding Dickens, KC, "Harry" or "Mr. H" (16 January 1849 — 21 December 1933)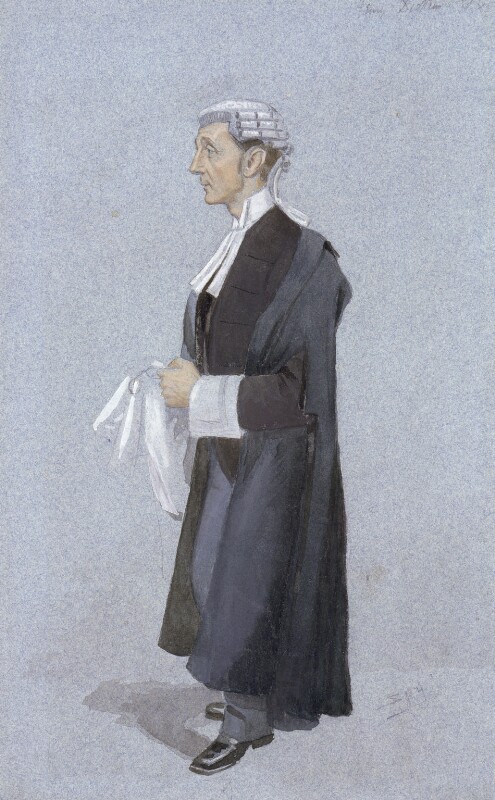 Sir Henry Fielding Dickens, by Sir Leslie Ward, in Vanity Fair, 13 May 1897. © National Portrait Gallery, London (NPG 3285). By kind permission.
The eighth child and sixth son of Charles and Catherine Dickens was baptised as Henry Fielding Dickens in St. Mary, Marylebone, on 21 April 1849, three months after his birth. From the start, he broke the mould of his siblings, for his father did not name him after influential, artistic, or powerfully-connected godfathers; rather, the boy was given a name with a strictly literary connection, to the eighteenth-century novelist Henry Fielding (1707-54) — one of his father's (and David Copperfield's) favourite authors. Dickens had apparently thought about naming him after another still-popular eighteenth-century writer, Oliver Goldsmith (1728-74), but may have considered that at school the boy would then have to endure taunts of "Oliver asking for more."
In 1857, Dickens father sent the boy to join his brothers at Mr. Gibson's boarding school for English boys in Boulogne-sur-mere; Henry hated the experience. When his parents separated in 1858, he took his father's side against his mother, putting him at odds with his sister Katie in particular. Dickens insisted that all of his children live with him at Gad's Hill, near Rochester in Kent. Nine-year-old Henry was now cared for by his twenty-year-old sister, Mamie, and his maternal aunt, Georgina Hogarth. Like his brothers, he was moved to Rochester Grammar School in 1860. But, unlike his brothers, he appears not to have been damaged by the harrowing breakup. He was a scholarly child who did not succumb to the lures of gambling and alcohol:
Henry was the first in his family to study at university – and the decision to send him to Cambridge wasn't taken lightly. As Claire Tomalin describes in her acclaimed biography (Charles Dickens, 2011), Charles had planned for Henry to take the Indian civil service examination – but the boy announced that he wanted to study at Cambridge. Not wishing his funds to be wasted, Charles consulted the headmaster of Henry's school who advised him that his pupil was able. Henry was allowed to study for a further three years, and had private tutors in a number of skills, including mathematics and fencing. ["Ever your affectionate Father"]
So it happened that the future Henry Fielding Dickens distinguished himself in the profession that his father loved to satirize, perhaps from his own experience as a clerk in the Doctors' Commons. The son with the eminently literary name made his mark socially and professionally above all the other Dickens children, but not as a writer: Henry Fielding Dickens, King's Counsel, was the only one of the Dickens children to graduate from university and enter one of the learned professions. He attended Trinity Hall, Cambridge, from 1868, and graduated with a Bachelor of Arts in Mathematics in 1872, before entering the study of Law. Called to the Bar in 1873, he practiced on the Kent Sessions and Home Circuit before transferring to a general law practice in London. He served as Recorder of Maidstone (1892-1918) and Common Sergeant in the City of London (1917-32). His Memoirs of my Father appeared in 1928, and personal Recollections in 1934. He died not of disease but as a result of a traffic accident, aged eighty-four.
Henry married Marie Therese Roche, the granddaughter of classical composer Ignaz Moscheles, on 25 October 1876 in Portman Square, London. The couple had four sons and three daughters: Gerald Charles (eventually a Rear Admiral), Henry (who became a barrister), Cedric (killed in the First World War), Philip Charles, Enid Henrietta Monica (who achieved fame as a detective novelist), Olive, and Elaine.
As a prominent member of the Liberal party, Henry Dickens was invited to stand for Member of Parliament for Rochester in the 1885 General Election. However, he rejected the nomination because he felt that he could not support the contentious Home Rule Bill for Ireland proposed by Liberal leader William Ewart Gladstone, citing "a disinclination to put my conscience into a whip's pocket."
Henry Dickens was appointed a Knight Bachelor in 1922 by King George V, and retired in August 1932. However, well before his retirement, from 1914 onwards, he gave talks and readings to support the Red Cross Society in the style of his father, even to the point of using his father's red-velvet-lined reading stand and wearing a geranium in his label, and served as the Life President of the Dickens Fellowship, founded in 1902 in order "to knit together in common bond of friendship lovers of the great master of humour and pathos." The texts which he recited included excerpts from David Copperfield, A Christmas Carol, The Chimes, and The Cricket on the Hearth — in other words, the genial but socially conscious works of the mid- to late 1840s. Over three decades Henry Dickens thus raised some £1,200 for the Red Cross.
By far the longest-lived of Dickens's children, he died at the advanced age of 84, and even then succumbed not to a medical condition but to a traffic accident in 1933 when struck by a motorcycle as he was crossing Chelsea Embankment. He died at nearby St. Luke's Hospital in Chelsea, five days after the accident, on 21st December 1933. The last surviving child of Charles Dickens was buried in Putney Vale, South London, in a private ceremony on 23 December. His most prominent descendants are the novelist Monica Dickens, the actor Gerald Dickens, and the writer-researcher Lucinda Dickens Hawksley.
Related Materials
Bibliography
Ackroyd, Peter. Dickens. London: Sinclair-Stevenson, 1990. [NB, here, Ackroyd gives 15 January 1849 as Henry Dickens's birthdate, but all other sources, including his birth certificate and the inscription on his grave, have 16 January.]
Davis, Paul. Charles Dickens A to Z: The Essential Reference to His Life and Work. New York: Facts On File, 1999.
"Ever your affectionate father, Charles Dickens." University of Cambridge Research. Web. 16 September 2019.
Hawksley, Lucinda Dickens. Charles Dickens. Dickens' Bicentenary 1812-2012. San Rafael, California: Insight, in association with the Charles Dickens Museum, London, 2012.
Schlicke, Paul (ed.). The Oxford Readers's Companion to Dickens. Oxford: Oxford U. P., 1999.
Slater, Michael. Charles Dickens. New Haven and London: Yale University Press, 2009.
Tomalin, Claire. Charles Dickens: A Life. New York: Penguin, 2011.
Witt, Emily. "Daddy Issues: On the Worthless Brood of Charles Dickens. Review of Great Expectations: The Sons and Daughters of Charles Dickens (FSG, 256 pp., $25) by Robert Gottlieb". Online version available from The Observer. Web. 12/04/12.
---
Created 16 September 2019