Lacking the patronage of the rich businessmen and prosperous city corporations of more industrialised counties, Sussex is not renowned for its public sculpture. However, this latest volume in the Public Sculpture series shows that the county has a wide range of works by sculptors ranging from Sir Francis Chantrey to Dame Elisabeth Frink.
The county's principal town, Brighton, has a fine statue of King George IV (1828), who as Prince Regent was responsible for the town becoming a popular resort. The book notes that this was Francis Chantrey's 'first successful bronze sculpture' and that there is a marble replica in Windsor Castle. In a nearby church is a memorial to the Prince's long-suffering companion, Mrs Maria Fitzherbert, by John Carew (1837). Another work of this period is the marble Earl of Egremont in Petworth (1840) by Edward Hodges Baily, sculptor of Nelson in Trafalgar Square.
The Victorian era saw relatively few statues of the great and the good, and even royalty fared badly. Brighton commissioned its Diamond Jubilee statue of Queen Victoria (1897) from a firm of monumental masons, and the book quotes the scathing verdict of the Magazine of Art: 'This statue of Her Majesty the Queen impresses us neither as a portrait nor as an example of sculpture'. The Edwardian era saw an improvement, with works by established Royal Academy sculptors like Thomas Brock, William Goscombe John, and Alfred Drury.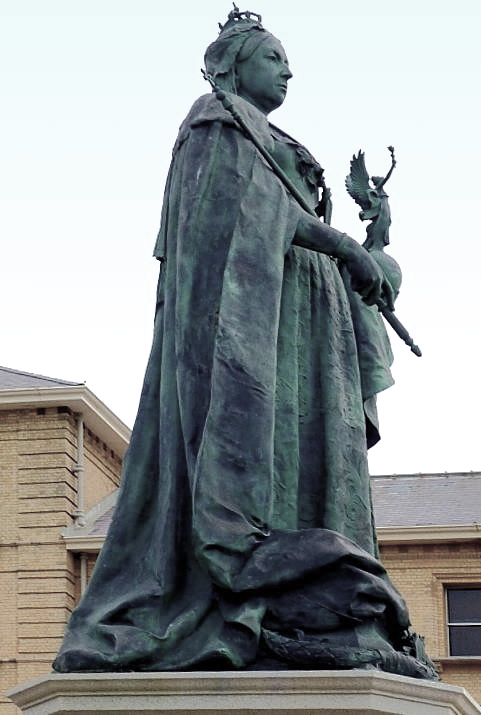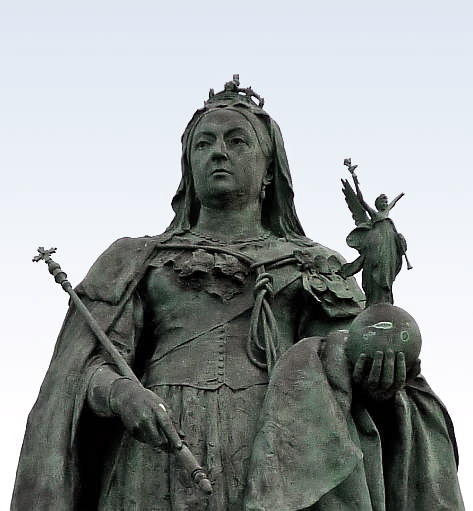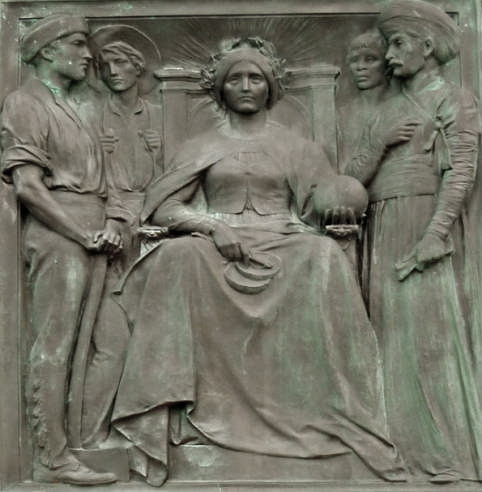 Three photographs of the Queen Victoria monument in Hove. Left: The entire statie seen from the statue's right side. Middle: View from front. Right: Empire. [Click on images to enlarge them.]
In their Introduction, the authors praise Brock's 'imposing' Queen Victoria for Hove (1901) as 'a confident representation of the "Pax Britannica" of Victorian Britain at the apex of its global spread and power'. However they add, 'Today with the hindsight of a bloody twentieth century, together with a more complex relationship to the figurative depiction of civic and public virtue, such works are divested of their original meanings, becoming to some extent mere markers in the city space'.
It seems to the present reviewer that it is rather unfair to criticise Brock for not foreseeing in 1901 the dreadful events of the twentieth century, and for using the 'figurative' style which was then in vogue, It is also a shade confusing for the authors to claim that the statue is now divested of its original meaning and is a 'mere marker', when it had just been praised as 'imposing' and as a 'fine example' of Brock's work.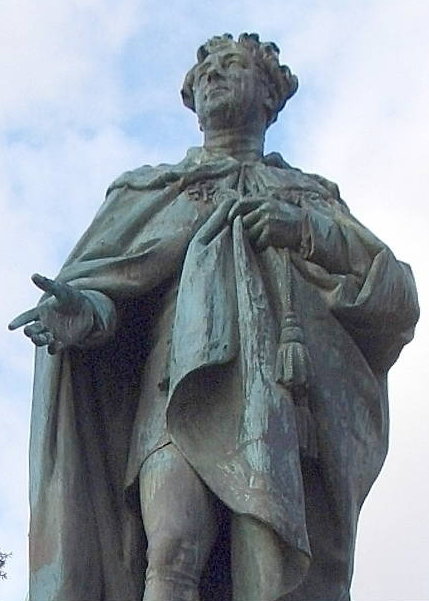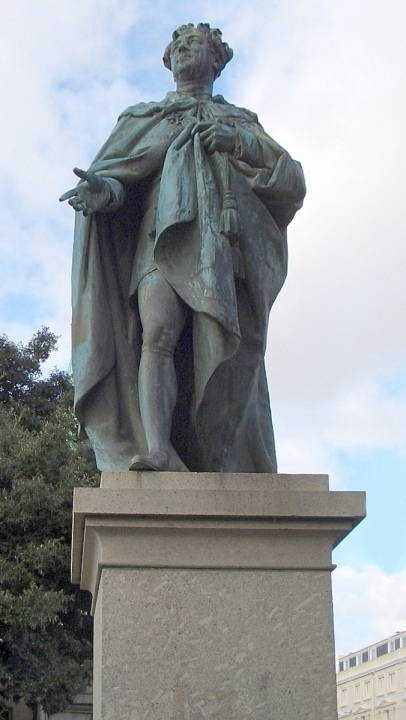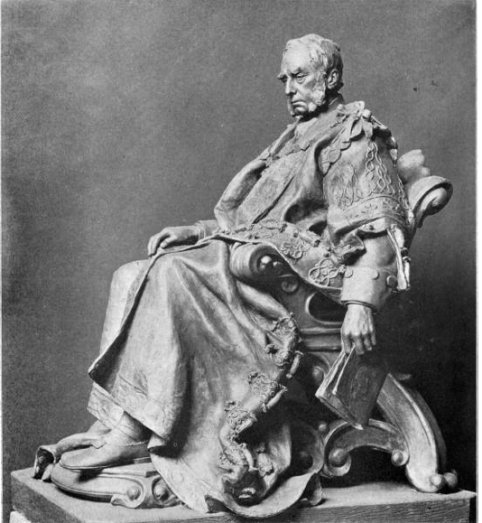 Two views of Sir Francis Chantrey's King George IV. Right: William Goscombe John's The late Duke of Devonshire, K. G.. [Click on images to enlarge them.]
Hastings commissioned their Jubilee statue (1902), from Francis Williamson, who had the title 'Sculptor in Ordinary to the Queen' but was not highly regarded by the Royal Academy. The proximity of royal statues by Brock and Williamson in Hove and Hastings makes it possible to compare their relative artistic merits. There is a similar chance to compare the works of Goscombe John and Drury in Eastbourne - Goscombe John's 7th Duke of Devonshire was unveiled in 1901 and Drury's 8th Duke of Devonshire was unveiled in 1910. Goscombe John also sculpted Eastbourne's memorial to the Indian service of the 2nd battalion of the Royal Sussex Regiment (1906). Brighton has a memorial by Charles Hartwell (1904), to the members of the 1st and 3rd battalions of the same regiment who died in the Boer War . .
Newbury Trent's symbolic figure surmounting the monument to King Edward the Peacemaker in Hove (1912) was surely intended as the Angel of Peace, while Henry Fehr placed the Angel of Victory above his war memorial for Eastbourne (1920). Eric Gill's war memorial in his home village of Ditchling (1919) is praised for 'the simplicity and elegant proportion of its incised lettering'. Edwin Lutyens, architect of the Cenotaph, sculpted a sturdy St George for Hove 's memorial (1921).
The era of war memorials was followed by a rather fallow period until the last thirty years . The revival was led by two new patrons - the Duke of Richmond's Goodwood Estate and Crawley Council. Goodwood commissioned Elisabeth Frink's Horse (1980) followed by two traditional portrait statues: Kenneth Potts' Mike Hawthorn (2001) and David Annand's Mike Hawthorn and Lofty England (2005).
Crawley, now the second largest town in Sussex, commissioned a series of imaginative sculptures, including Martlets Tree by Richard Quinnell and Peter Parkinson (1999); Lion by Christian Funnell (2000); Conduit and Continuum by Will Glanfield (2001); Flying Spiral by Ray Smith (2001); and Golden Tree by Joss Smith (2006).
The book performs a useful service in chronicling in this welcome trend, which also include Chichester, with three works by Philip Jackson - Minerva (1997), Pope Joan (1999) and St Richard (2000); - Brighton, with two works by Peter Webster - Max Miller (2005) and Steve Ovett (2012); and Crowborough, with David Cornell's Arthur Conan Doyle (2001). The authors deserve congratulations for producing an attractive and comprehensive guide to the varied sculpture of one of England's most beautiful counties.
Bibliography
Seddon, Jill and Peter, and Anthony McIntosh. Public Sculpture of Sussex. Liverpool University Press, 2014. ISBN978-1-78138-125-0; 340 pages, £45 hardback.
---
Created 2 March 2015