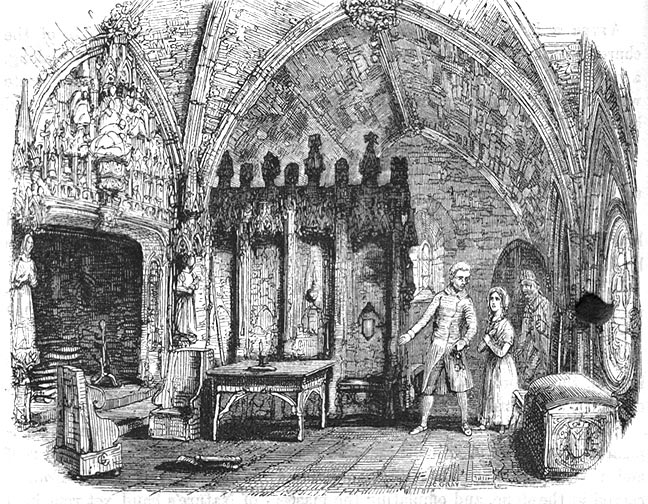 Nell's New Home by George Cattermole. 3 ½ x 4 ½ inches. Wood-engraving. Chapter 53, The Old Curiosity Shop Part 29 (21 November 1840) in serial publication (fifty-fourth plate in the series) in Master Humphrey's Clock, Part 32, Vol. 2, 95. [Click on the image to enlarge it.]
Context of the Illustration: Nell acquires an actual residence
The room into which they entered was a vaulted chamber once nobly ornamented by cunning architects, and still retaining, in its beautiful groined roof and rich stone tracery, choice remnants of its ancient splendour. Foliage carved in the stone, and emulating the mastery of Nature's hand, yet remained to tell how many times the leaves outside had come and gone, while it lived on unchanged. The broken figures supporting the burden of the chimney-piece, though mutilated, were still distinguishable for what they had been — far different from the dust without — and showed sadly by the empty hearth, like creatures who had outlived their kind, and mourned their own too slow decay.
In some old time — for even change was old in that old place — a wooden partition had been constructed in one part of the chamber to form a sleeping-closet, into which the light was admitted at the same period by a rude window, or rather niche, cut in the solid wall. This screen, together with two seats in the broad chimney, had at some forgotten date been part of the church or convent; for the oak, hastily appropriated to its present purpose, had been little altered from its former shape, and presented to the eye a pile of fragments of rich carving from old monkish stalls.
An open door leading to a small room or cell, dim with the light that came through leaves of ivy, completed the interior of this portion of the ruin. It was not quite destitute of furniture. A few strange chairs, whose arms and legs looked as though they had dwindled away with age; a table, the very spectre of its race: a great old chest that had once held records in the church, with other quaintly-fashioned domestic necessaries, and store of fire-wood for the winter, were scattered around, and gave evident tokens of its occupation as a dwelling-place at no very distant time.
The child looked around her, with that solemn feeling with which we contemplate the work of ages that have become but drops of water in the great ocean of eternity. The old man had followed them, but they were all three hushed for a space, and drew their breath softly, as if they feared to break the silence even by so slight a sound. [Vol. 2, Chapter LII, 85-86]
Commentary
Dickens mingles feelings of relief and regret in the scene of Nell's finally finding a sanctuary after her purgatorial journey on foot through the West Midlands' Black Country. Following Dickens's textual cues, Cattermole places an emphasis on such elements in the mediaeval chamber as rest, rust, decay, and disuse. But Cattermole also conveys a sense of light and beauty in the Gothic tracery of the centuries' old residence that will be Nell's final refuge. In the illustration, Nell admires the spacious room and its mediaeval ornamentation while her guide, the schoolmaster (whom Dickens now identifies as "Mr. Marton"), gestures towards the feeble table and decaying chairs in front of the enormous hearth. Cattermole gives prominence to the large chest to the extreme right ("a great old chest that had once held records in the church," 86), which he elaborates with an heraldic shield, as if to underscore its mediaeval origins. Beside it Cattermole has placed an ornate, stained-glass window, an aspect of the scene that Dickens has described as "a rude window, or rather niche, cut in the solid wall" (85). Cattermole integrates this ornamental feature as an oval, stained-glass window reaching from a gothic arch to just above the floor, to reinforce the fact that this separate dwelling was once part of a covent. The reader processes these textual details just ahead of encountering the image on the second page of the chapter, so that it conditions the reader's sense of place throughout the chapter.
Related Material Including Other Illustrated Editions of
The Old Curiosity Shop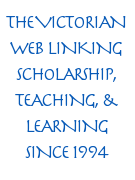 Scanned image and editing by George P. Landow; caption, and commentary by Philip V. Allingham. [You may use this image without prior permission for any scholarly or educational purpose, as long as you (1) credit the person who scanned the image, and (2) link your document to this URL in a web document or cite the Victorian Web in a print one.]
Bibliography
Dickens, Charles. The Old Curiosity Shop in Master Humphrey's Clock. Illustrated by Phiz, George Cattermole, Samuel Williams, and Daniel Maclise. 3 vols. London: Chapman and Hall, 1841; rpt., Bradbury and Evans, 1849.
Vann, J. Don. "The Old Curiosity Shop in Master Humphrey's Clock, 25 April 1840-6 February 1841." Victorian Novels in Serial. New York: MLA, 1985. 64-5.
---
Created 7 November 2009

Last modified 15 November 2020