Harry Furniss's eighteen-volume edition of The Charles Dickens Library (London: Educational Book Company, 1910) contains some 500 special plates (part of the total of 1200 illustrations) and two volumes of commentary. Volume 17, by J. A. Hammerton, is entitled The Dickens Picture Book: A Record of the Dickens Illustrators. The fifth volume, entitled The Old Curiosity Shop, represents Dickens's third novel, run serially in his own weekly periodical Master Humphrey's Clock (4 April 1840 through 4 December 1841). Furniss illustrated the uncollected pieces separately as Master Humphrey's Clock for volume 6 of the Charles Dickens Library Edition (1910).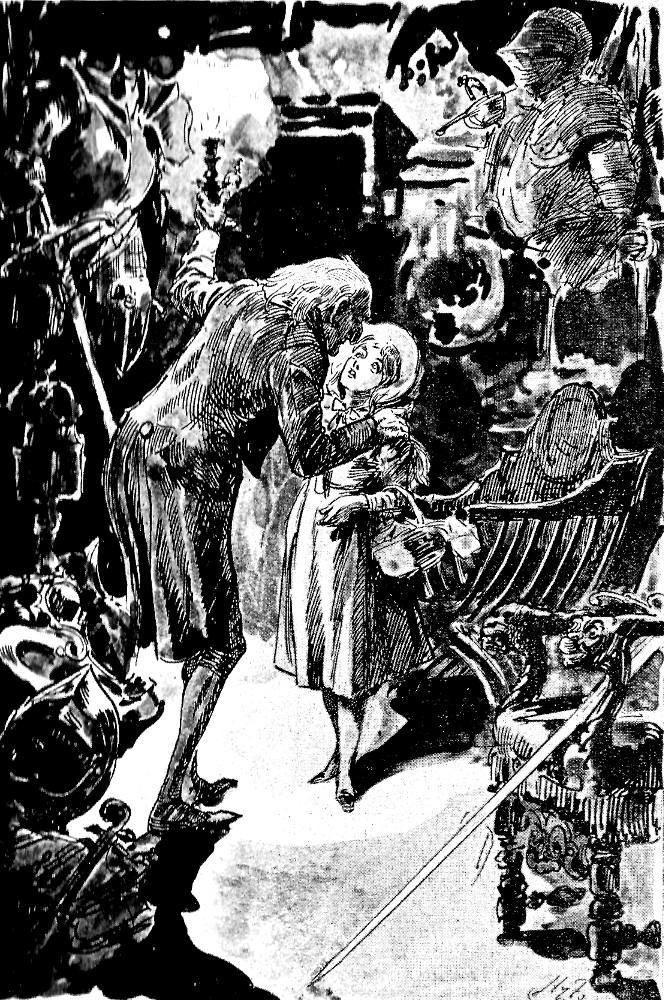 The final volume of the 1910 Charles Dickens Library Edition is The Dickens Companion: A Book of Anecdote and Reference. For all thirty-two illustrations in Volume V, The Old Curiosity Shop, the series editor, J. A. Hammerton, has included both succinct captions and extended quotations to demonstrate the textual moment realised in each; moreover, each quotation refers to a specific page number, thereby enabling the reader to find the passage illustrated. Although each page is 12.2 by 18.4 cm (4.75 by 7.25 inches) and the caption below each in upper-case, and below that occurs a multi-line quotation in upper and lower case, each plate is effectively 14.3 cm by 9.2 cm (5.5 inches by 3.25 inches), the vertically-mounted illustrations usually being framed, and the horizontally-mounted illustrations being vignetted. The volume also contains the short novel Hard Times, but Furniss provided only two illustrations to accompany it: Gradgrind (frontispiece) and Characters from Dickens (engraved title). Of the five chief nineteenth-century illustrated editions that preceded Furniss's 32-illustration volume in 1912, only three had long programs exclusively produced by a single artist: Sol Eytinge, Jr. (1867), Thomas Worth (1876), and Charles Green (1876).
Thirty-two Illustrations for
The Old Curiosity Shop

(1910)

Numbers refer to chapters in Roman and pages in Arabic.