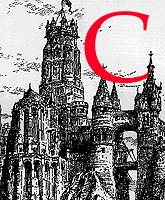 harles Eamer Kempe (1837-1907) had an enviable background. He was born at the gracious and beautifully situated Ovingdean Hall in Sussex (now the premises of an international language school), in a valley of the South Downs near Brighton. The youngest of the seven children of Nathaniel Kempe, JP., he was born to Nathaniel's second wife Augusta, who was herself the daughter of a former Lord Mayor of London. But Kempe's father died when he was six, and it was many years before the family estate could be wound up: not until he was an adult could he reap the benefit of his good connections.
Kempe was educated at Rugby and then Pembroke College, Oxford, receiving his MA in 1862. A devout Anglo-Catholic with a bad stammer which precluded a career in the church, he devoted himself instead to the cause of beautifying church buildings. First he entered the office of G. F. Bodley, who was the son of the family doctor (see Harrison), then he spent some time with the stained-glass firm of Clayton and Bell in London. Then eventually he set up his own highly successful studio in the later 1860s. After his death, this became C. E. Kempe & Co., under the chairmanship of his much younger distant cousin Walter Earnest Tower (1873-1955). From this time Kempe's wheatsheaf "signature" on stained glass had a small tower superimposed upon it. The firm survived until 1934. There is an English Heritage plaque on Kempe's former London home and studio at 37, Nottingham Place, Marylebone, W1.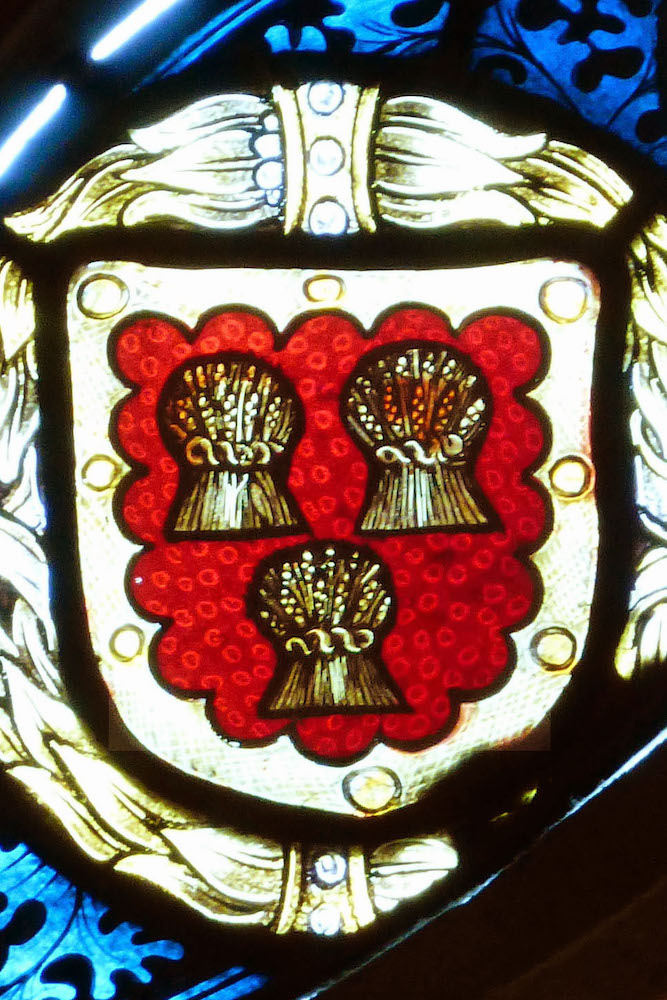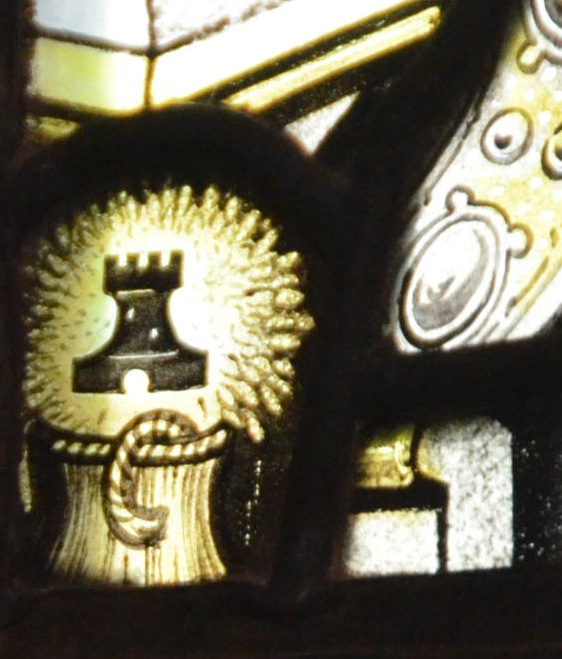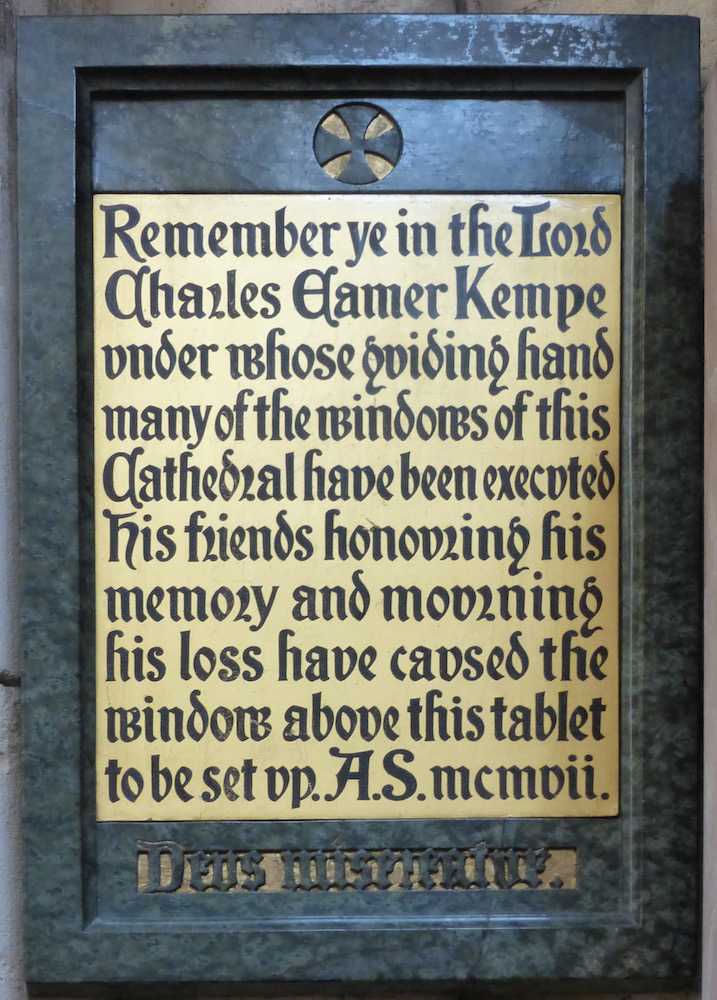 Kempe signatures. Left to right: (a) Three wheatsheaves in the Kempe arms. (b) The arms in a tracery light. (c) The later, single wheatsheaf with Walter Tower's tower superimposed on it. (d) A small memorial to Kempe near the organ. and below the memorial window to him by C. E. Kempe and Co., high up, and featuring musician angels, in Southwark Cathedral — which originally had twenty-two Kempe windows, nine having unfortunately been lost in World War II. First two photographs by Colin Price; third by Adrian Powter; last by Jacqueline Banerjee.
Kempe also designed church fittings and interior decorations, and did some architectural work. For example, he extended and decorated Old Place, the fine late sixteenth-century house that he bought for himself in the pretty village of Lindfield, Sussex, where he kept his collection of antique furniture and artworks, and entertained his friends and colleagues.
Kempe liked to work in late medieval/early Renaissance style and his work is also distinguished by its detailed face-drawing, eye-catching "pearl" decorations, and shimmering greens. "He gave England some of the most glowing windows in our churches," says Arthur Mee (275). The Kempe Studios supplied many cathedrals, too, and Kempe's fame spread far beyond Britain, particularly to North America (see Stavridi 9). He employed as many as a hundred men, one of his pupils being Ninian Comper. Perhaps his most prestigious commission was for the royal mausoleum in Darmstadt, where he was asked to commemorate Princess Alice's little son.
Kempe's work is not always praised, though some of the criticisms seem strangely contradictory — for instance, that the early, brighter glass was too bright (see Stavridi 91), and that the more subdued later glass too "muddy" ("Architects"). Other criticisms are that he overdid the detail, or that the later work looked mass-produced (see Harrison). Simon Bradley seems to take into account some of these views: "Kempe's studios worked on a large scale, producing over 4,000 windows. The mature style is easily recognizable, with its combination of muted, dusty blue colouration, mild-featured figures, and repetitive canopy-work" (153).
What seems clear, however, is that by turning to late Gothic and northern Renaissance styles for his inspiration Kempe offered a real alternative to Pre-Raphaelitism in stained glass design. He was certainly one of the acknowledged leaders in the field. Now perhaps he is the only stained glass artist, not including such figures as Pugin and Morris who are famous for their work in other areas too, to have a society devoted to him. Kempe is buried in the family vault at Ovingdean.
Recent work on Kempe by Adrian Barlow (see the bibliography below, and a review here) clarifies many points in his biography: Barlow points out, for instance, that the "Hughes" who worked with Kempe for almost ten years (from 1869 to 1878) was not the artist Arthur Hughes, as once assumed, but Wyndham Hope Hughes, who painted the pulpit at All Saints, Jesus Lane, Cambridge, for him in 1874 (see Kempe: The Life, Art and Legacy, 45). Barlow addresses the criticisms mentioned above, looks at a selection of his windows in detail, and provides a useful gazetteer of his work. — Jacqueline Banerjee
Works in stained glass
Other work
Bibliography
"Architects and Artists 1-J-K." Sussex Parish Churches. Web. 21 February 2019 (see entries on both Kempe himself, and C.C. Kempe & Co.).
Barlow, Adrian. Espying Heaven: The Stained Glass of Charles Eamer Kempe and His Artists. Cambridge: Lutterworth, 2019. [Review]
_____. Kempe: The Life, Art and Legacy of Charles Eamer Kempe. Cambridge: Lutterworth, 2018. [Review]
Bradley, Simon. Churches: An Architectural Guide. New Haven and London: Yale University Press, 2016.
Harrison, Martin. "Kempe, Charles Eamer (1837-1907)." Oxford Dictionary of National Biography. Online ed. Web. 14 July 2014.
The Kempe Society. Web. 14 July 2014.
Mee, Arthur. Sussex. The King's England series. London: Hodder and Stoughton, 1937.
Stavridi, Margaret. Master of Glass: Charles Eamer Kempe 1837-1907 and the work of his firm in stained glass and church decoration. Hatfield, Herts.: Kempe Society/John Taylor Book Ventures, 1988.
Sumeray, Derek, & John Sheppard. London Plaques. Botley, Oxford: Shire, 2010.
---
Created 26 June 2015

last updated 29 November 2021 (thanks to Philip Pankhurst for his correction here)