Colour photographs by Shirley Nicholson, unless otherwise specified. [You may use these images without prior permission for any scholarly or educational purpose as long as you (1) credit the photographer and (2) link your document to this URL in a web document or cite it in a print one. Click on all the images to enlarge them.]

outh of Bedford Gardens was a parcel of land surrounding the Jacobean mansion, Campden House. This blocked encroaching development for several years but the old house fell into terminal decline and from 1848 the grounds were gradually sold off for new development. Sheffield Terrace was the first street to be built on this site. At first it had houses along the north side only, with numbers running continuously; the southerly aspect remained open until blocks of flats were put up in 1894 and the street numbering changed. Some houses here were also destroyed for the construction of the Metropolitan Railway but were rebuilt over the tracks in 1871.
Sheffield Terrace looking east, postcard circa 1910, the smaller numbers are at the far end on the left (courtesy of the Royal Borough of Kensington and Chelsea).
Henry Moore (1831-1895) appeared on the census at 4 Sheffield Terrace in 1851. When the house was pulled down for the railway in the 1860s he moved to 8 Sheffield Terrace. The Moore family came from York and Henry's father and three brothers were all artists, one being Albert, a member of the Holland Park circle. Henry Moore painted landscapes and rural scenes but from 1857 turned to marine painting, making close studies of the movement and moods of the sea. He exhibited at the RA from 1853 to 1895 as well as throughout Europe and was widely regarded during the 1880s and 90s as one of England's most important artists.
Andrew Nicholl (1804-1866) appears on the census of 1851 at 6 Sheffield Terrace, before it was lost to the railway. He was born in Belfast and became one of Ireland's leading landscapists, exhibiting numerous paintings with many having a charming array of wild flowers in the foreground. He also specialised in topographical drawing and worked at the Colombo Academy in Sri Lanka from 1846 to 1850. By 1861 he had moved to Lambeth and died in Camberwell.
15 Sheffield Terrace was the home of William Luker senior (1828-1905) a portraitist and animal painter who was living here with his artist wife in 1871. Three of their children grew up to be artists and by 1881 the family had moved to 22 Notting Hill Square (later Campden Hill Square) which remained their base for over thirty years. In 1901 William Luker's grandson Frank married Henry Moore's daughter Florence. William Luker junior (1867-1892) was a landscapist and animal painter. His drawings of London streets and interiors and his Kensington views are especially interesting.
The houses in Sheffield Terrace must have made attractive homes for artists as others settled here too, James Radford (fl.1841-1920) appearing on the census at 19 Sheffield Terrace for forty years. Like his neighbours Edward Richardson at No.1 and Alfred Lancaster at No.5 he was a landscapist, but none of them became well known.
38 Sheffield Terrace (formerly No.18), designed by Alfred Waterhouse.
38 Sheffield Terrace (formerly No.18) was built for Edward Sterling by Alfred Waterhouse. Edward Coningham Sterling (1831-1876) came from a wealthy family. He was an art student in 1860 and was friendly with many other artists who were already making their names. He exhibited three paintings at the Royal Academy but had other interests, such as journalism and staging plays for Dickens. Sterling is credited with founding the Artists' Rifles, a volunteer regiment for defence against possible French invasion. This proved popular with several well known artists who enjoyed assembling in drill halls and going on manoeuvres together. Sterling's link with Alfred Waterhouse must have been close for one of England's busiest and most successful architects to build him a small town house with a studio in 1875. Waterhouse employed sixty draftsmen in his office and the 1870s was an especially productive decade for him, Manchester Town Hall, Eaton Hall and the Natural History Museum all being under construction. Squeezed into a gap between two ranges of traditional stucco houses and two storeys higher, 38 Sheffield Terrace stands out as a curious anomaly, in the same way as Boughton's house at 118 Campden Hill Road did when it was built that same year. Unfortunately for Sterling he died before the house was completed in 1876.
At the western end of Sheffield Terrace, the land was laid out as five large plots, each containing an individual house with views over the grounds of Campden House. These were not given numbers but designated villas or lodges. The builder responsible was Jeremiah Little, who lived in Wilton Villa, (now 54 Sheffield Terrace.)
Sheffield Terrace (Percy Villas), postcard circa 1910, looking west. The first villa is no 54 with 60 and 62 at the far end (courtesy of the Royal Borough of Kensington and Chelsea).
Sussex Villa (60 Sheffield Terrace) was the home of Thomas Faed (1826-1900). He was born in Scotland and with his artist brother John did much for Scottish art. Thomas was especially successful in domestic genre with a strong narrative content and his pictures were engraved and sold as prints for the mass market. Nearly a hundred works were exhibited by him at the RA between 1851 and 1893. Faed came to London in 1852, settling first in Westbourne Grove but moving to Sussex Villa in the early 1860s. He was a friend of John Ballantyne who made two versions of Faed painting in his studio for his series showing artists at work. Susan Faed, his sister, also exhibited from this house. Two of Faed's children died here in 1863 and his wife died in 1870. On his own death in 1900 he left the considerable sum of £57,000.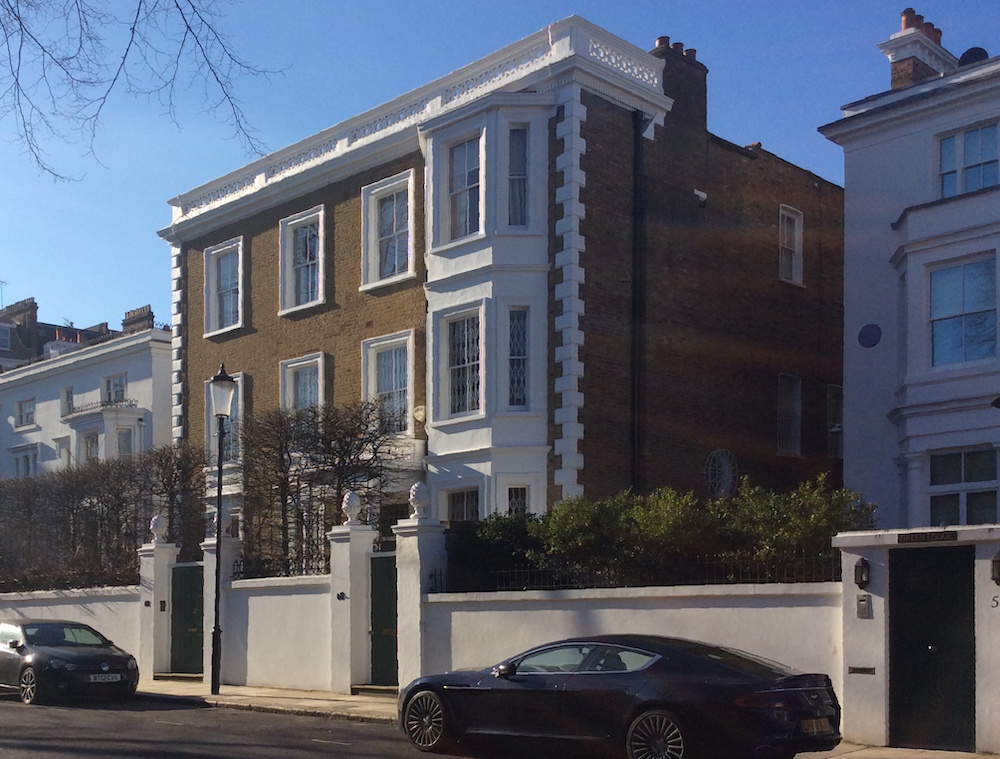 Left: Thomas Faed's house, at No. 60. Right: Faed in his studio, at work on The Mitherless Bairn, painted by John Ballantyne (courtesy of the National Galleries of Scotland).
John Ballantyne (1815-1897) studied art in Edinburgh before coming to London in the early 1860s. He exhibited at the RA from 1835-1883 and from 1863 to 1868 gave The Mall, Kensington Gravel Pits, as his address. This was a convenient base for working on his big project, a series of twelve paintings of artists at work, as three of his subjects, Thomas Faed, John Phillip and Holman Hunt, lived close by. "Artists in their Studios" was shown at a special exhibition in 1865. Ballantyne's efforts were not engraved for larger public viewing, possibly because the cult of "artist as celebrity" had not yet got under way, so he did not make much money out of this series. For posterity his paintings give a wonderful insight into the size and rich decoration of the studios his subjects worked in. These artists were making good money, not struggling in garrets.
The Mall, Kensington Gravel Pits (Horsley, facing p.2)
Percy Lodge (62 Sheffield Terrace) was occupied by Thomas Rowbotham (1823-1875). He was born in Ireland, the son of an artist, and moved to London exhibiting over 400 works from the 1840s onwards and was Professor of Drawing at the Royal Naval School. His landscapes were praised by John Ruskin, the well known art critic, although the bright gouache colours he used were criticised by others as unnatural. The 1871 census shows him at Percy Lodge with his wife and six sons, two of whom became artists. The eldest, Charles Rowbotham (1856-1894) assisted his father by painting the figures in his landscapes and later became successful in his own right as a water-colourist. Thomas Rowbotham died here in 1875, aged 52, but compared to other successful artists of the period left very little money.
Links to related material
---
Created 31 July 2022