Colour photographs by Shirley Nicholson, unless otherwise specified. [You may use these images without prior permission for any scholarly or educational purpose as long as you (1) credit the photographer and (2) link your document to this URL in a web document or cite it in a print one. Click on all the images to enlarge them.]

t Campden Lodge, now 82 Campden Hill Road, lived the sculptor William Theed the younger (1827-1891). This was his home for thirty-six years, from 1855 until his death. He was a favourite of Queen Victoria and had many commissions from her and Prince Albert, including the 1867 statue of them in Saxon dress, now at Frogmore with a copy at the National Portrait Gallery. He also designed the Africa group for the Albert Memorial which was unveiled in 1872. His son, Edward Frank Theed, also a sculptor, was listed as living here on the 1871 and 1881 census. Frank exhibited at the RA from 1873 but, like his grandfather William Theed the elder (1764-1817) never achieved the success of William Theed the younger.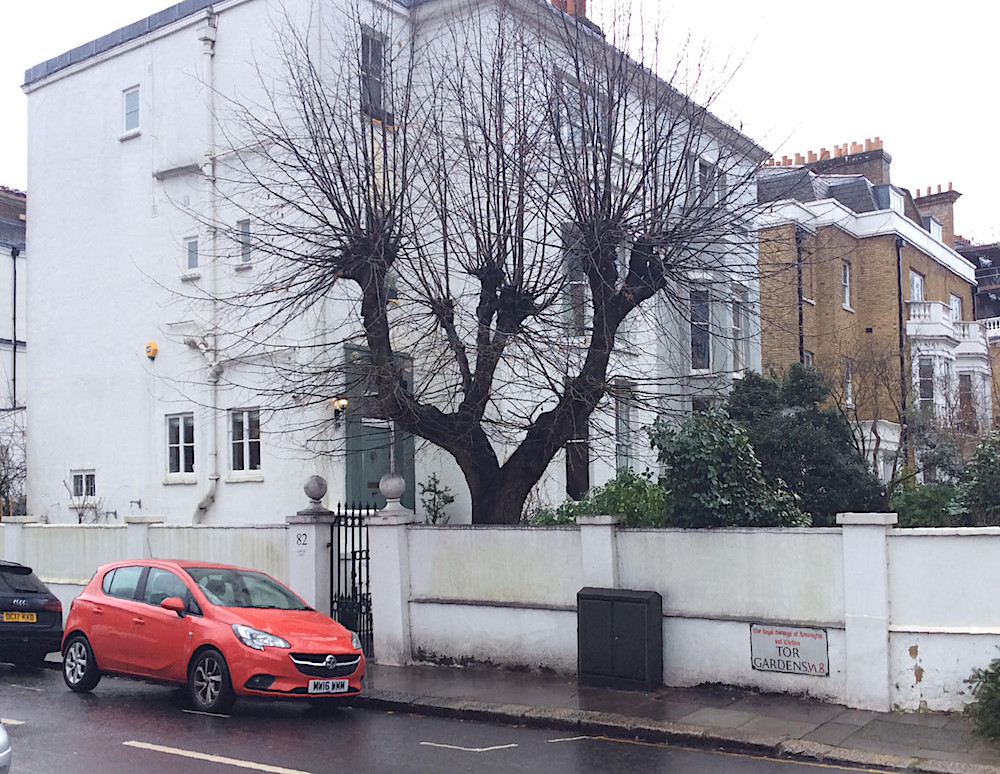 Left: 82 Campden Hill Road. Right: Looking south down Campden Hill Road. Courtesy RBKC. No.82 is behind the first lamp post, with Tor Villa on its left. No.76 is in the distance, between the second and third lamp posts. The two big villas on the left were damaged during the war and their site was built over in the 1960s with low rise flats. No.82 and its neighbours survived.
1 South Villas (now 76 Campden Hill Road) was occupied from the mid 1850s by the Scottish painter John Phillip (1817-1867) who later became known as 'Spanish Philip' because of his success with Spanish subjects. He exhibited at the RA from 1838. He married Maria, sister of the artist Richard Dadd, in 1844 and they had two children, but Maria, like her brother, had mental health difficulties and was put into care when the children were very young. Their son, Colin Bent Phillip (1855-1932) was born here and became a successful landscapist in watercolours. John Phillip built a substantial studio in the rear garden of 1 South Villas, where he can be seen in John Ballantyne's painting of him at work.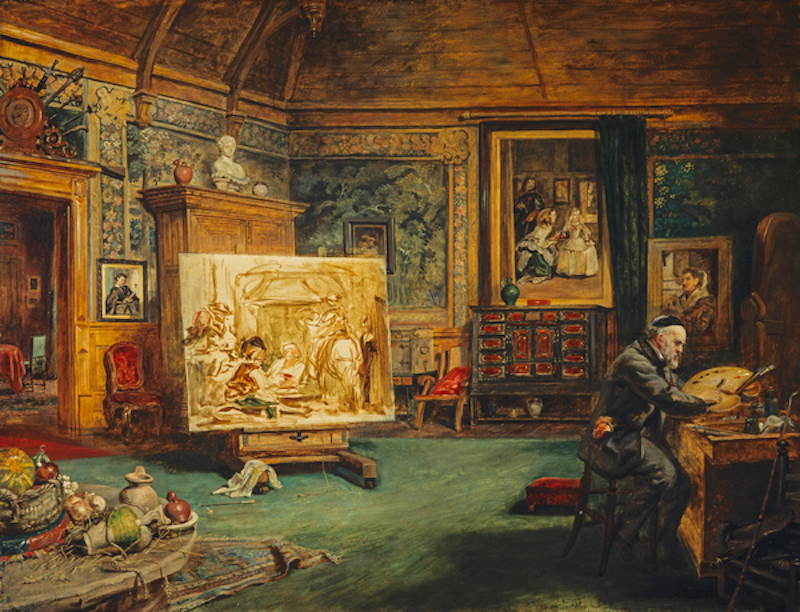 John Ballantyne's painting of John Phillip in his studio, The Dying Contrabanista is on the easel. [Click on the image for more information about it.]
After John Phillip's death in 1867 76 Campden Hill Road became the home of Rudolf Lehmann (1819-1905). He was born in Hamburg, Germany, studied in Paris and Rome and exhibited at the RA from 1851. After marrying Amelia Chambers, daughter of the Scottish publisher in 1861, he decided to settle in London and became a British national in 1878. His wife and daughters were great friends with the Lewis family of nearby Moray Lodge. Lehmann painted many portraits and enjoyed the friendship of several prominent figures, among them Charles Dickens, George Eliot and Robert Browning. His eldest daughter Liza Lehmann became a well known singer and composer; his nephew R. C. Lehmann was a journalist and politician who was on the staff of Punch magazine.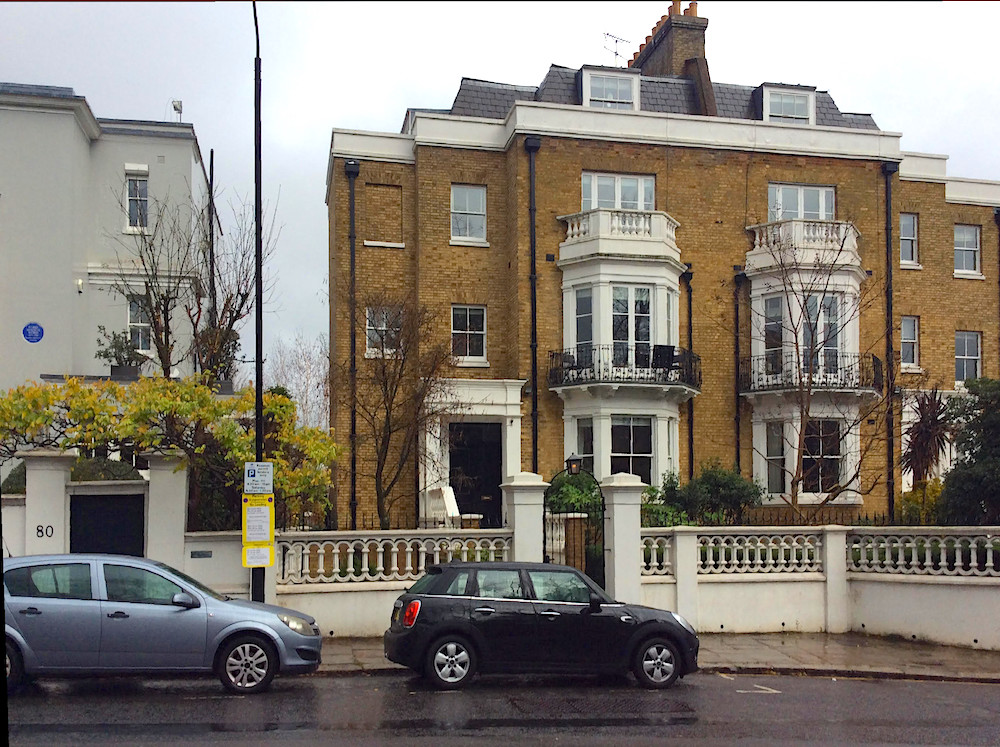 Left: 76 Campden Hill Road (right hand side of pair). Right: 32 Campden Grove.
Violet Hunt (1862-1944), who had grown up at 1 Tor Villas, became a feminist writer and moved to 80 Campden Hill Road, only a few yards away. Here she had a liaison with the author Ford Maddox Ford from 1910 to 1918 and the Blue Plaque on the house, seen on the far left, is dedicated to him.
During the 1880s the Lehmann family spent most of their time in Rome and the house on Campden Hill was given up, but Rudolf Lehmann built a smaller studio house at 32 Campden Grove which he used when he had work to do in London. On returning from Italy the family moved to Cromwell Road before settling in St John's Wood.
Kate Lewis, the eldest daughter of Arthur Lewis of Moray Lodge, wrote a passage in her autobiography about visiting the artists on "Show Sunday," the open day held before submissions to the annual exhibitions at the Royal Academy. Not all the artists did this regularly, some not at all, but it was one of the social events of the year when fashionable people flocked to see the latest paintings. Kate (whose married name was Gielgud) described her visits to the studios during the 1880s:
If we turned up Campden Hill Rudolf Lehmann would have portraits to show us in the studio behind the house we children knew so well, for he also had four daughters (one my contemporary, the others slightly older) and our Mathilde taught them also. We could hear Mrs Lehmann and Liza practising as we passed the drawing room door, and often voices upstairs would hail us to make some plans. George Boughton kept up a running commentary of travel talks while he showed his pictures, suggesting a dozen trips to my father among the Dutch canals and the tulip fields he constantly visited - and he told amusing little anecdotes about the people. Frank Dicksee opened his own door and made one very welcome - I liked him and his pictures, and so I did the wonderful apple trees in bloom and the Berkshire lanes on Alfred Parsons' easel in Bedford Gardens. Mr Abbey in the adjoining studio was far more academic and his American accent and American wit did not appeal to me. We usually finished our Campden Hill round in the small studios which William Llewellyn and Alfred Hartley, both quite young men, worked side by side in the shadow of the big water-tower. [Gielgud 75]
"When Nature Painted All Things Gay." [Click on the image for more information about it.]
The southern half of the Phillimore estate, about thirty acres, was developed from 1858 onwards when the demand for good quality housing was at its peak. Several handsome villas were put up in Upper Phillimore Gardens, followed by a series of linked houses and terraces, all designed for various levels of middle and upper class residents. Stafford Terrace, closest to Kensington High Street, was the last street to be built on this estate and the Punch cartoonist Linley Sambourne (1844-1910) lived at No.18 from 1875 until his death. He kept a diary and during the 1880s regularly attended Show Sundays, listing his visits to all the artists in the Holland Park and Campden Hill areas before going on to studios in St John's Wood. In 1889 he managed fifteen studio visits in one day. He also documented the many parties that he and his artist friends enjoyed during the 1880s and 90s. They dined at each other's homes, joined the same clubs and frequently met at functions in London as well as when on holidays abroad. They also exchanged paintings. Sambourne could not afford to buy original works but depended on the occasional gift as well as collecting photographs of contemporary work. These he framed and hung on the walls of his home, where they can still be seen.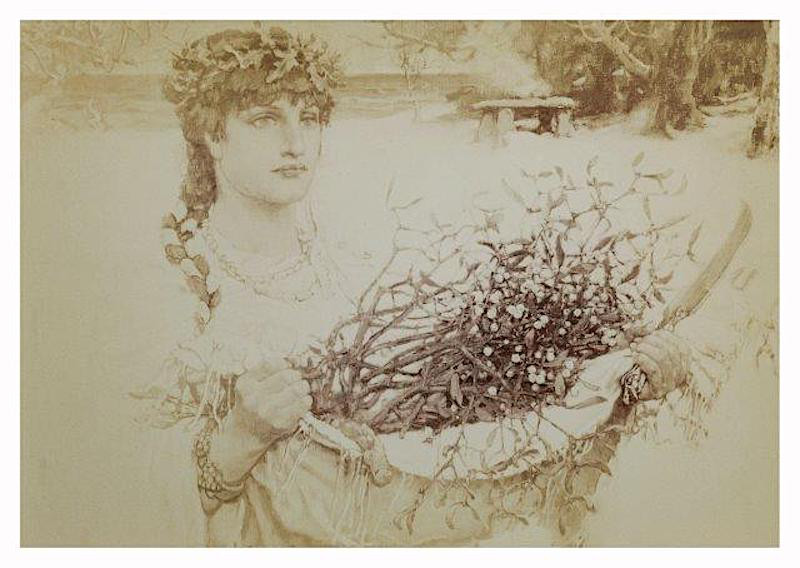 The Sacred Mistletoe by George Boughton, a framed photograph from Sambourne House. The original painting is presumed lost (courtesy of the Royal Borough of Kensington and Chelsea). [Click on the image for more information about it,]
Sambourne was a keen amateur photographer and from 1887 to 1891 borrowed Abbey and Parsons' studio at 54 Bedford Gardens to take a series of photographs using professional female models, both nude and draped, to aid him in his cartoon drawings. These photos are a remarkable record of an essential adjunct to an artist's work, the working girl who posed for money, sometimes acting as muse or lover too. Hetty Pettigrew was one of three sisters who all became successful models, posing for a wide range of artists, Millais, Thornycroft, Gilbert, Whistler, Godward, Roussel, and many others. Here she is in front of one of Alfred Parsons' big oil paintings propped up against the wall behind her. This may be the painting of Apple Trees in Blossom so much admired by Kate Lewis.
Left: Linley Sambourne in his studio, drawn by William Luker junior (Loftie 251). Right: Hetty Pettigrew in Abbey's studio. Taken by Linley Sambourne on 5 August 1891 (courtesy Royal Borough of Kensington and Chelsea).
By the end of the nineteenth century popular sentiment was changing. The artists who had been so successful in Queen Victoria's reign grew old and unfashionable, their pretensions mocked. Even Linley Sambourne ceased going to Show Sundays, declaring in 1900 that he "did not care a rap" about them. Kensington was declining into a dowdy suburb, the artistic focus shifting elsewhere, even before two world wars came with their sweeping changes. The once famous artists who had lived here suffered almost total eclipse. Although there was a revival of interest in them during the 1960s it was not until the 1980s that serious historians began to re-appraise the period. The studios of Kensington were again put to use, wealthy incomers refurbished houses both large and small, new blocks of flats sprang up, and the High Street became once more a fashionable destination. Leighton House and Sambourne House are now open as museums dedicated to two contrasting artists, where they attract a new generation of students and connoisseurs.
Links to other parts
Links to related material
---
Created 1 August 2022