Colour photographs by Shirley Nicholson, unless otherwise specified. [You may use these images without prior permission for any scholarly or educational purpose as long as you (1) credit the photographer and (2) link your document to this URL in a web document or cite it in a print one. Click on all the images to enlarge them.]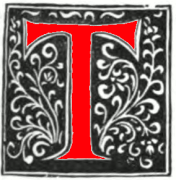 he next parcel of open ground south of Sheffield Terrace was sold off as individual plots during the early 1850s and several villas were put up in what is now called Tor Gardens. James Clarke Hook (1819-1907) was the first to buy here and chose a plot in the south-west corner where he designed a pair of houses in the Tuscan style in 1851, one for himself and one to rent, which he named 1 & 2 Tor Villas.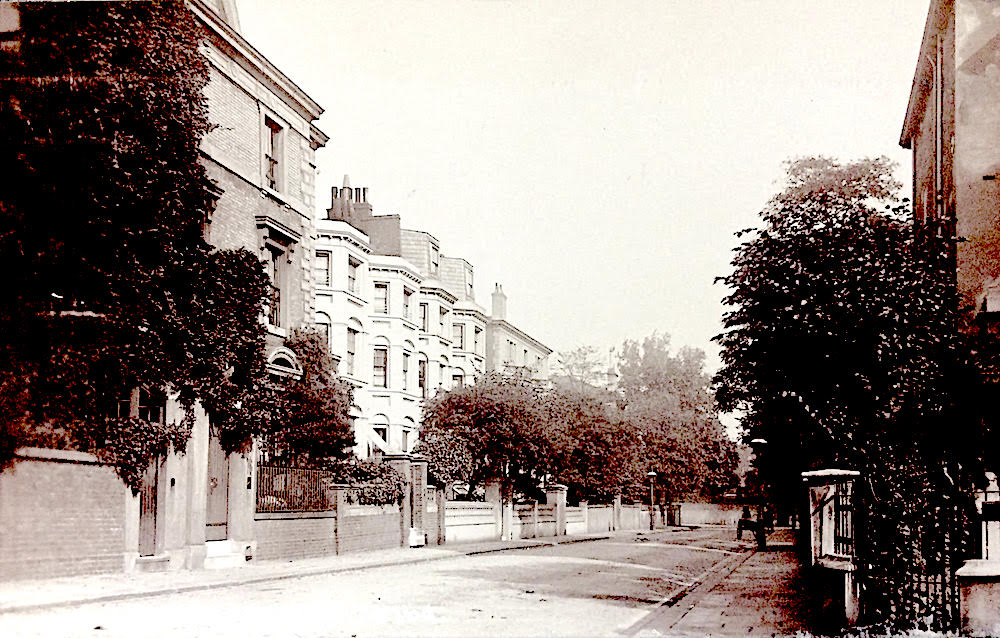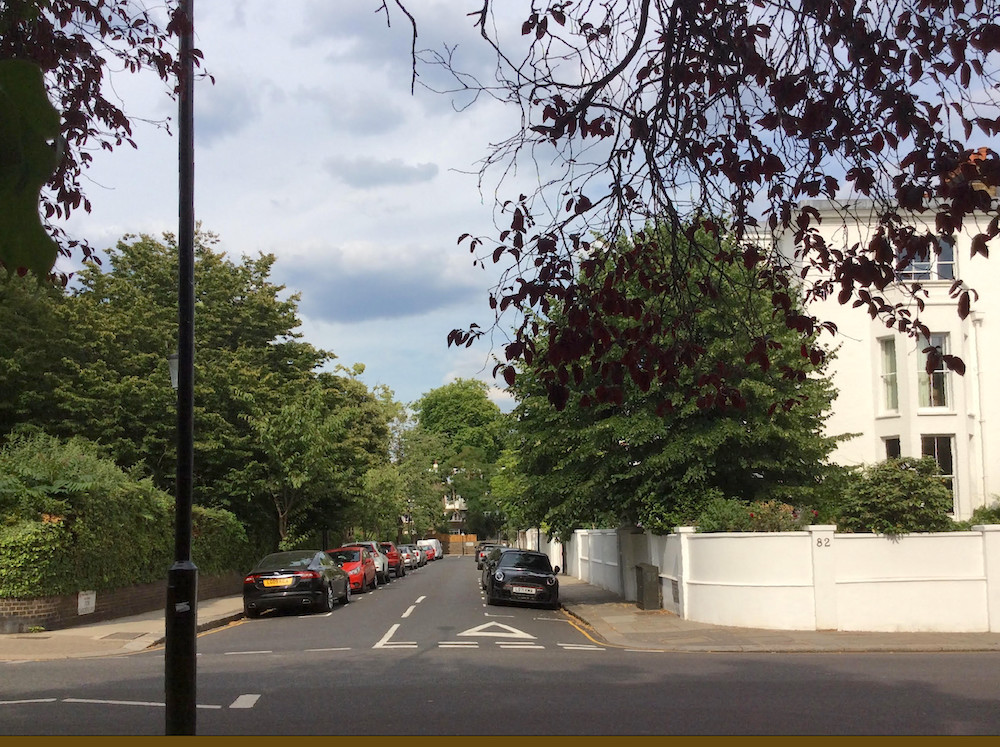 Left: Tor Gardens, with 1 & 2 Tor Villas shown on the left corner, postcard circa 1910 (courtesy of Royal Borough of Kensington and Chelsea). Right: Tor Gardens today. 82 Campden Hill Road is on the right hand corner in both photographs.
1 Tor Villas had a big studio which took up the whole of the upper floor and was among the first studio houses to be built in the Kensington area. It predates those of Valentine Prinsep and Frederic Leighton in Holland Park by thirteen years, and Boughton's house by twenty-five years, thus making Hook the trail blazer for the artists who came here later. Hook painted historical scenes and landscapes but he later turned to seascapes and became best known as a marine painter. His wife Rosalie was an artist as were his sons Allan and Bryan, who were both born here. Hook decided to move to the country in 1857 and offered to lease 1 Tor Villas to John Everett Millais. When this was declined he settled on Holman Hunt, one of his Etching Club friends and Millais' best friend.
1 & 2 Tor Villas (courtesy of the Royal
Borough of Kensington and Chelsea).
William Holman Hunt (1827-1910), one of the founders of the Pre-Raphaelite Brotherhood, was famous (or notorious) for his religious paintings and those with a moral theme. These included his depiction of The Light of the World and The Awakening Conscience. In 1855 he travelled to Jerusalem and while there went to the Dead Sea where he painted The Scapegoat. On his return to England this picture was not well received by the critics but it gained Hunt even more notoriety and was eventually sold for 450 guineas. However, the failure of his other pictures to find buyers and the damp air of his riverside lodgings in Pimlico caused a decline in health. His doctor recommended that he move to higher ground so Hook's offer of Tor Villas on Campden Hill came at an ideal moment. Here Hunt set up an establishment with his sister Emily and two artist friends, Michael Halliday (1822-1869) and Robert Braithwaite Martineau (1826-1869) both of whom had shared his previous lodgings. Michael Halliday was a member of the Artist' Rifles and friend of Arthur Lewis, often attending his Moray Minstrel parties. He was a close friend of Millais and Hunt working in the pre-Raphaelite style and exhibited at the RA from 1853 to 1866. He and Braithwaite both died in 1869 in their mid 40s.
The wealthy inhabitants of the big villas on Campden Hill included several aristocratic families, the Hollands, Butes and Argylls, as well as Arthur Lewis of Moray Lodge, who were all pleased to entertain Hunt. He also met George Frederick Watts and the Prinsep family, then living together at Little Holland House, and Frederic Leighton who had premises in Orme Square before building his own studio house in Holland Park Road in 1864. Hunt's health improved; he enjoyed what he described as the "Bohemian atmosphere" and the "sumptuous smoking parties" of Moray Lodge. He also moved around the country staying with various friends and it was these absences which probably led his landlord, James Clarke Hook, to complain that the rent was often in arrears. Hunt worked on several pictures during his time at Tor Villa. The Finding of the Saviour in the Temple, which he had begun before going to the East, was finally finished in 1860 and sold for the record sum of 5500 guineas.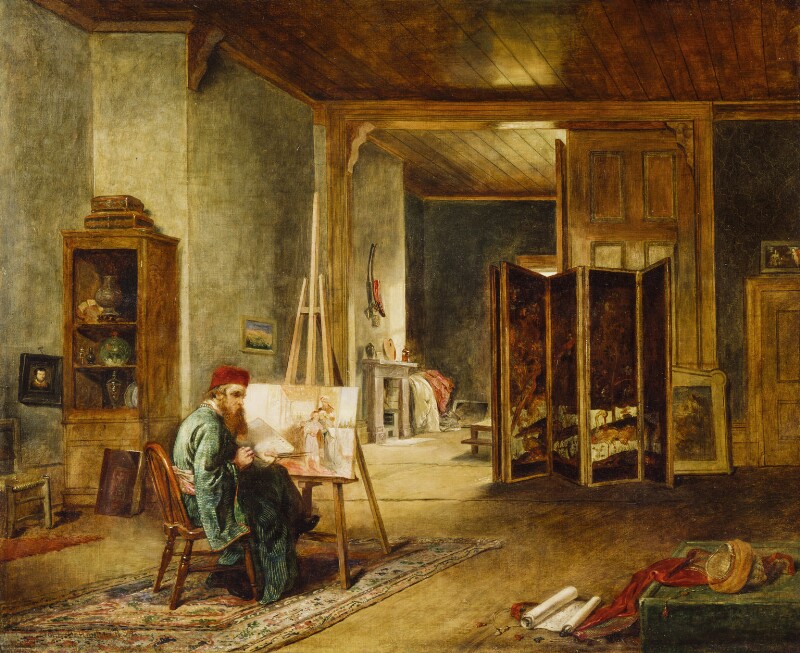 John Ballantyne's painting of Holman Hunt in his studio. Ballantyne asked the artists who sat for him to paint their own vignette into the picture: here The Finding of the Saviour in the Temple is on the easel. [Click on the image for more information about it.]
In 1861 William Holman Hunt met Fanny Waugh and after four years of courtship they were married in December 1865, leaving together for another journey to the East in August 1866. This was tragically cut short when they reached Florence, where Fanny died after giving birth to a son, just a few days short of their first wedding anniversary. Hunt returned to England for a brief period but in 1869 set out again for Jerusalem, determined to find suitable backgrounds for his religious pictures. On his return he moved studios several times, staying for some time at Draycott Lodge, Fulham, before settling in 18 Melbury Road where he died in 1910.
1 Tor Villas with its fine studio was taken over by another artist, Alfred William Hunt (1830-1896) a landscapist and water colourist highly praised by John Ruskin. He paid his first rent to Hook in October 1867 and appears in the census of 1871, remaining here for more than twenty years; his wife Margaret was a writer and their daughter Violet (1862-1944) grew up in this house.
2 Tor Villas, the other half of Hook's house, was leased (probably as soon as it was built) to John Callcott Horsley (1817-1903) It seems that Horsely only used it for a short time, giving it as his address from 1855-1859, as he continued to maintain his family home at 1 High Row. 1 High Row, now numbered 128 Kensington Church Street (with a blue plaque to an earlier incumbent, the musician Muzio Clementi) had been built in 1737 as part of the hamlet of Kensington Gravel Pits. Horsley lived here from the age of six and his Recollections of an Academician gives delightful insights into his boyhood when much of the surrounding area was rural and the scattered gravel pits and brickfields nearby were thriving local industries. Horsely was primarily a historical genre painter although he turned his hand to other forms of art and designed the first Christmas card. He was rector at the RA from 1875-1890 where his objections to painting from nude models earned him the nick-name "Clothes Horsley" and an amusing cartoon by Linley Sambourne in Punch magazine.
The studio at the rear of 1 High Row, from Horsley's Recollections. This is typical of the usual studio added to an existing house. Very few artists had purpose built studio homes but were content to adapt existing premises.
2 Tor Villas was taken over by George Smith when Horsley left in 1859. He came here from 26 Bedford Gardens and moved again in 1866, giving his address as Augusta Villa, close to Tor Villas, where he stayed until 1879. Tor Villas was badly bombed during World War 2. Deemed too damaged to be worth repairing all these houses were demolished in the early 1950s and a similar fate overtook other buildings to the east. Here Campden House, already denuded of its grounds, had fallen into disrepair but a long wing survived until the twentieth century in good condition. The eastern half (fronting on to Gloucester Terrace, now Gloucester Walk) was sometimes called The Elms but is usually referred to as Little Campden House; the western half (with access from Campden House Road, now Hornton Street) was known as Lancaster Lodge. Both parts were popular with a succession of artists, with alterations and additions made to suit each new incumbent. Modern flats now stand on this site.
The bachelor brothers John James Chalon (1778-1854) and Alfred Edward Chalon (1780-1860) moved into the western half of Little Campden House during the 1850s. They named it El Bien Retiro, giving this as their address for RA submissions, and both died here. John exhibited at the RA from 1801 but gave most of his time to teaching, although his friend C. R. Leslie wrote of him "few painters had so great a range of talent." Alfred's portraits in watercolour were very successful. He was the first to paint Queen Victoria on her accession to the throne: the head from this full length portrait of 1837 was later used on stamps issued to the British colonies during the 1850s. Alfred Chalon also painted a large number of works in oils.
Little Campden House drawn by William Luker junior. Lancaster Lodge is the wing on the left accessed from Hornton Street by a gate in the wall (Loftie 98).
Augustus Egg (1816-1863) moved from Ivy Cottage Bayswater to Little Campden House in 1853, re-naming his part of it The Elms. Egg painted scenes from history and literature and gave much encouragement to the Pre-Raphaelites; Holman Hunt in particular was grateful for his financial help. Egg's best-known picture, Past and Present, was exhibited in 1858 while he was living here. He married in 1860 but suffered from poor health and lived much of the time abroad, dying in Algiers aged 47. The Elms was taken by Alfred Sydney Wigan (1814-1878) a successful actor and theatre manager, who reverted to using the earlier name of Little Campden House.
George Vicat Cole (1833-1893) moved into Little Campden House in 1874. Like his father George Cole (1810-1883), he was a successful landscapist, and exhibited at the RA from 1853. He had lived from 1861 at 19 Gloucester Terrace (now Gloucester Walk), which looked north onto the main façade of Little Campden House. In 1868 he had moved on an upward trajectory to 8 Victoria Road, but when Little Campden House fell vacant he was quick to take advantage, staying there with his wife and artist children, Rex and Blanche, for more than twenty years. Rex Vicat Cole (1870-1940) became a well-known landscapist in his turn, opening a School of Art jointly with his friend John Byam Shaw.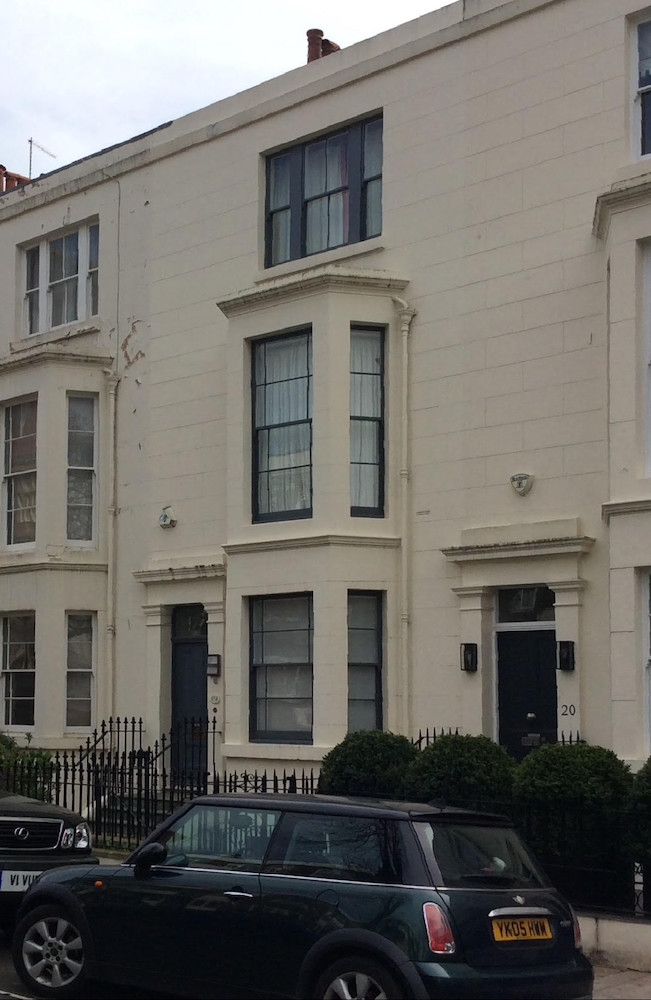 Left: 19 Gloucester Walk. Right: The School of Art in Campden Street, now converted into apartments.
Arthur Stockdale Cope (1857-1940), the portraitist son of Charles West Cope, took over Little Campden House when Cole died in 1893. Cope was the leading portraitist of his generation and was favoured by the aristocracy and successful industrialists. For those wanting something more dramatic his contemporary John Singer Sargent was the portraitist of choice. During the 1880s Cope painted five small portraits for Alexander Macdonald's collection of contemporary artists (donated in 1901 to the Aberdeen Art Gallery) one of which was of George Vicat Cole. Later Cope painted a range of civic dignitaries as well as George V and other members of the royal family.
Robert Martineau moved to Lancaster Lodge, the western end of Little Campden House, at the time of his marriage in 1865. He painted historical scenes, exhibiting at the RA from 1852. His best known picture, The Last Day in the Old Home, was painted in 1862 while he was lodging with Holman Hunt at 1 Tor Villas. In 1869 he asked the architect Philip Webb to design him a studio in the garden but died the same year, aged 43. The studio, numbered 78 Hornton Street, was among the buildings destroyed by bombing and no record of it remains.
Links to other parts
Links to related material
---
Created 31 July 2022

Last modified 20 August 2022