Colour photographs by Shirley Nicholson, unless otherwise specified. [You may use these images without prior permission for any scholarly or educational purpose as long as you (1) credit the photographer and (2) link your document to this URL in a web document or cite it in a print one. Click on all the images to enlarge them.]

ampden Street, south of Peel Street, was laid out as an access road to the rear gardens of the next street, Bedford Place, now Bedford Gardens. Development began here in the 1830s and was to a higher specification than anything in the area so far. A handsome terrace was put up at the eastern end of Bedford Gardens, followed westwards by a row of paired villas. These houses had not been intended as homes for artists but from the mid 1870s onwards they became much in demand as their long gardens gave opportunities to build studios with the all-important north facing windows. Property was nearly all leasehold at the time so it was easy to move if circumstances changed and over time many artists took up residence here for a few years before moving on.
76 Bedford Gardens had a studio in the rear garden built in the 1860s for an unknown artist but during the 1880s it was occupied by Carlile Macartney (1842-1924) a landscape artist and portrait painter who exhibited at the Royal Academy from 1874 to 1897. He was one of the founders of the Art Workers Guild in 1884 and moved out of London in 1895.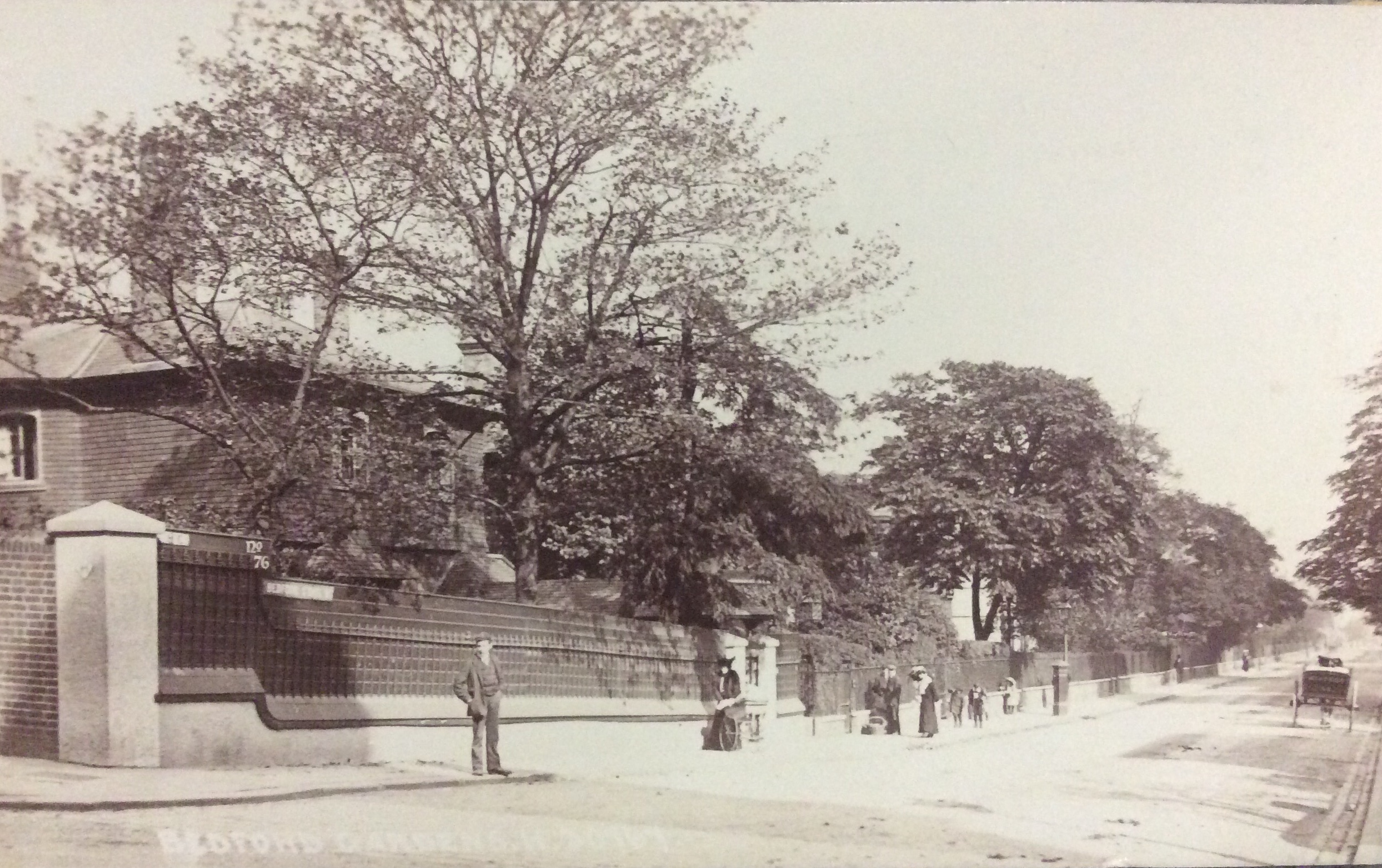 Bedford Gardens, looking east postcard circa 1910. The corner house, no.76, was demolished and the site occupied by a block of flats (courtesy of the Royal Borough of Kensington).
54 Bedford Gardens was home to the Parsons family from the late 1870s until the 1900s. Alfred Parsons (1847-1920) was primarily an illustrator of flowers in watercolours, his contribution to Ellen Wilmott's book The Genus Rosa gained great acclaim. He was also a successful garden designer whose work is still admired. He occasionally painted in oils and exhibited at the RA from 1874, giving this as his address from 1879 to 1881. He moved to Broadway in 1885 and visited Japan in 1892, returning at intervals to stay at 54 Bedford Gardens.
The American artist Edwin Austin Abbey (1852-1911) came to London in 1878 and decided to settle here in 1880, exhibiting at the RA from 1885. Like Parsons he was best known as an illustrator, especially his work for Harper's Magazine, but after 1890 made a second reputation with a series of large murals in public buildings. He lived at 72 Bedford Gardens for a short time before deciding to share Parson's studio at No 54. This was built over a workshop in the rear garden, accessed by external stairs, but Abbey enlarged it and made a link to the main house with a new internal staircase. However he was away for much of the time and from 1898 had a bigger studio in Tite Street Chelsea.
54 Bedford Gardens (photograph
by Neil Pettigrew).
Abbey's friend Frank Millet (1846-1912) was an American artist who used 54 Bedford Gardens as his address for RA submissions between 1888 and 1890. Millet bought a house at Broadway, a charming village in the Cotswolds, and persuaded Abbey and Parsons to join him there. During the 1880s Broadway was a flourishing artists' colony, attractive also to writers and stage personalities. Some friendships broke up when Abbey married in 1890 and moved forty miles away to Fairford. Millet died in the Titanic disaster in 1912.
46 Bedford Gardens was the home of John Bottomley (1816-1900) an animal painter, from 1867 to 1875. His portrait of Prince Albert's dog is in the Royal Collection and he was often asked to paint the animals in his friends' landscapes. No.46 is one of only two houses still to have has its long rear garden opening onto Campden Street with ample space for a studio building. In the late 1890s the house was taken over by William Llewellyn who enlarged the studio, followed in 1919 by the landscape artist Rex Vicat Cole (1870-1940) who again made alterations.
Left: 46 Bedford Gardens, showing the studio at the rear. Right: No. 26.
26 Bedford Gardens was the home of George Smith (1829-1901) from 1856 to 1858. He had been a pupil of C. W. Cope, assisting him on the murals at the Palace of Westminster and exhibited at the RA from 1848-87, specialising in paintings of children and domestic scenes.
At the eastern end of Bedford Gardens four houses were taken down for the construction of the Metropolitan Railway in the 1860s. A permanent gap was left where Nos 8 and 10 had been, but Nos 6 and 12 were rebuilt in 1871. Studios in these two houses were occupied on short lets by a succession of artists. Georg Koberwein (1820-1876) a Viennese portrait painter used 12 Bedford Gardens in 1876, along with his artist daughters Rosa and Georgina who all exhibited at the RA.
Left: 12 Bedford Gardens. Right: 6 Bedford Gardens.
Later Harold Speed (1827-1957) and Gerald Moira (1867-1959), both marine painters, shared a studio at No 12 from 1892 to 1896, while Edward Sherard Kennedy (fl.1863-1890) used 6 Bedford Gardens as his address from 1871 to 1884. He specialised in historical genre pictures and his wife Florence also painted. James Archer (1823-1904) well known for his portraits of children, was here from 1872 to 1879. William Lionel Wyllie (1851-1923) and his brother Charles William Wyllie (1853-1923) both painted seaside subjects and worked here from 1878 to 1879.
Links to other parts
Links to related material
---
Created 30 July 20ß22